Editing existing PDFs has become a well-known problem and there are several solutions available for that issue. You can use online PDF converters or desktop software packs specifically designed for that purpose. But those options are just more pricey and maybe they aren't a good fit for people that don't need to convert many documents. Also, there is a lack of tools that will allow you to convert some paper document directly into the digital form, immediately ready for editing.
That is why we have searched for a more budget and user-friendlier option and we have found it in a PDF to Word Converter mobile app. It permits you to edit PDF documents by converting them into a Word document that can be edited further. But, it can help you convert paper documents as well, which is a completely new approach to working with documents.
This can be very helpful when you are in need of a quick fix for correcting mistakes from contracts or updating old documents with new data. Let's take a look at how this app can help you with converting PDF documents on the go.
(Also see: Never Settle for Less – Why Skype Might Be Restricting Your Business's Growth)
Connects with cloud storage
Using PDF to Word app is very easy because you can convert any PDF on your device. If you don't have a document on your device, don't sweat it, this app got you covered. It connects to 5 biggest Cloud storages like Google Drive, Onedrive, Dropbox, Box, and iCloud. That enables you to access and convert any document wherever you are.
It has even the feature to convert files from Gmail attachments, which is the place most people receive their PDF files. With this neat shortcut, you can access your PDF attachments from the app. You will see the list of all available PDF attachments, without going through your emails and without downloading them to your device.
OCR conversion supported
With OCR conversion, you can even convert non-native PDF documents, like scanned PDFs and images. This is where the PDF to Word Converter differentiate from other apps in the Store and the OCR conversion is pretty good quality. It converts scanned documents almost perfectly, and I say almost because there is no perfect OCR conversion.
Conversion of printed documents
With the newest update, the app has been enriched with a document scanner that allows you to utilize your phone's camera to scan paper documents and turn them into Word file on the spot. Then PDF to Word Converter can further enhance your scans with an auto detect paper option and black and white filters for a better quality of the scan. All of this has a goal to make better scans of the document so the conversion quality will be improved as well.
(Also see: Few Steps to Format and Restore your Android Mobile Effectively)
How to use PDF to Word Converter
Using this app is a no-brainer and there are few simple steps that you need to follow in order to successfully convert your documents:
1. Open the file you want to convert.
Then there are several options:
Upload the file from device storage

Upload files from Cloud services or Gmail attachments

With the newest update, you can now also scan printed documents using this app's scanning feature. Choose scanning option, snap a photo of the document, modify the scan and you're good to go. In this way, you can convert printed documents besides PDF files.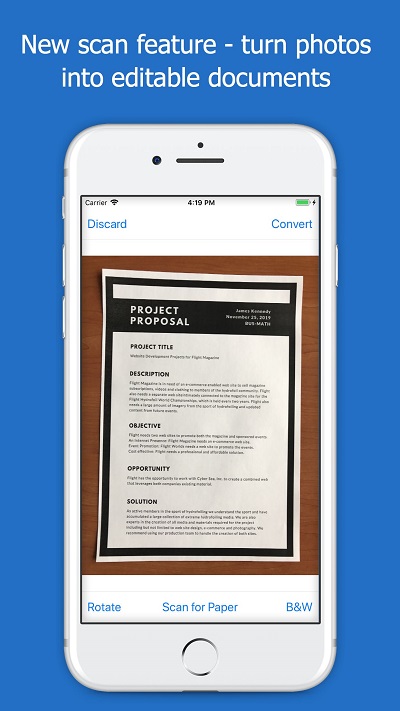 2. Conversion takes place on the servers, making no impact on your phone's battery life or performance.
3. Wait for the file to be converted and open it in MS Word app. That is all.
Use the PDF to Word Converter app to deal with your PDF files, and now with new updated, with your paper documents, too. It will help you remove the paper clutter from your life and speed up your document management by reusing old documents. You can download this app with either your Android or iOS phone.