One of the most common problems faced by general users is low storage. The frequent "your memory storage is low" reminder is a nightmare for many. After all, nobody likes to delete their prize possessions of pics and videos from the gallery to clear space. Likewise, important documents you might not want to let go of from your internal storage.
How to optimise storage space on Windows and save memory?
What can one do to fix the low storage problem? The answer is pretty simple; the usage of duplicate file remover tools! That's right. Unknowingly, users tend to pile up heaps of redundant files. It can be duplicate copies to simply having copies in multiple folders. Real users indicated saving up to 40% new memory space by using the Systweak Duplicate file remover.
In today's read, we will look at the in-depth review of Duplicate Removal Tool by Systweak. We will see in a brief tutorial how easy it is to install the tool, and how to work with it. By the end of this quick-reading, you will be able to manage storage and get rid of duplicate files on your own.
Let's dive into the details!
What is the Systweak duplicate files remover tool?
The Systweak duplicate files remover tool is essentially a smart software tool that scans your windows device for duplicate files. In simple terms, it would go through media files (music, videos, photos) and even documents to assess to locate the stack of duplicate files. Furthermore, it seeks the owner's permission after indicating scan results to delete the redundant files.
Where can I find the Systweak duplicate files fixer to download on my Windows device?
You can visit the official website systweak.com to download it to your personal computer. The current version supports working on Windows 10/8/7/Vista and XP. Let's see how to install and use this tool step-by-step.
Step 1: Download the Systweak duplicate files fixer tool
Visit the official website to download the file. In the bottom section of your browser, you will be able to locate the downloaded executable file. Or you can also visit the downloads tab of your browser to view the .exe file. Click on the file to start installing the software.
Step 2: Allow permission to begin set-up
Step 3: The setup wizard will open. Click on YES.
Step 4: Open the software after download success. You will be able to find the icon on your desktop.
As a matter of fact, the software will auto-open after successful installation. You will then be able to start scanning the documents.
So this is how you can download the software on your Windows desktop. Let's now see how to really use this tool, to save memory on the PC.
How to use Systweak duplicate files remover?
On opening the software, you will be able to see the home preview as shown in the picture. The tool will give you a scan analysis of what and where the duplicate files are there on your hard disk storage.
On the right side, the graphic analysis can also be found in terms of which file formats are there; like documents, music, pictures, videos, and more.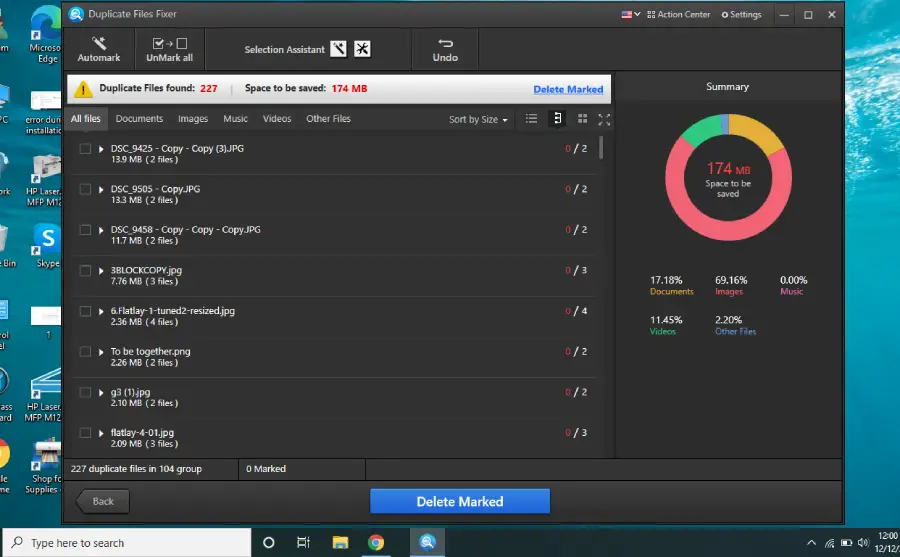 When you click on the Details tab, you can view proper details of duplicate file names and location as shown in the pic below: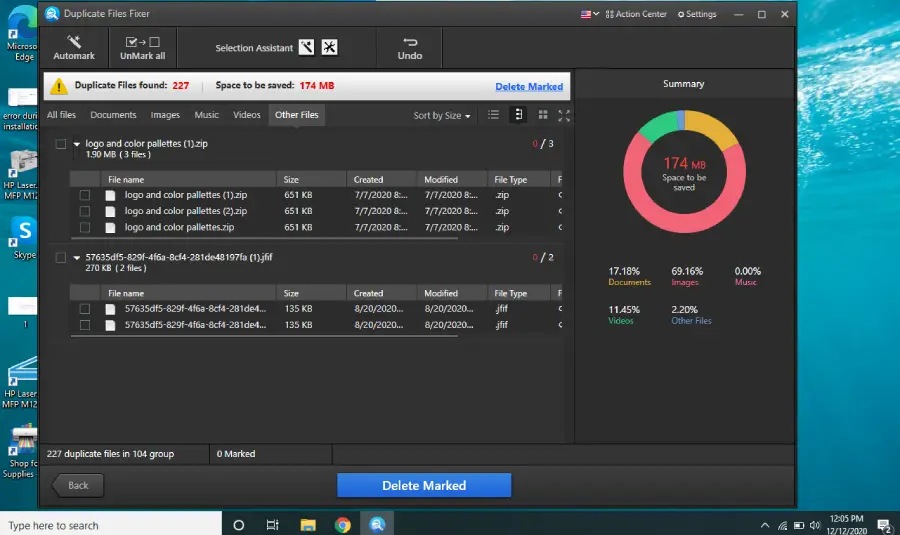 For example, if you click on a file, you can find a file preview on the right side of the panel in the software. It will help you analyze and see if you want to download a file or not,
The deletion process
For the demonstration purpose, we're selecting the given files. On the bottom of the software is a button asking to delete marked files. On clicking it, you will be prompted for permission again. Click on the Remove files button (the blue one) to proceed.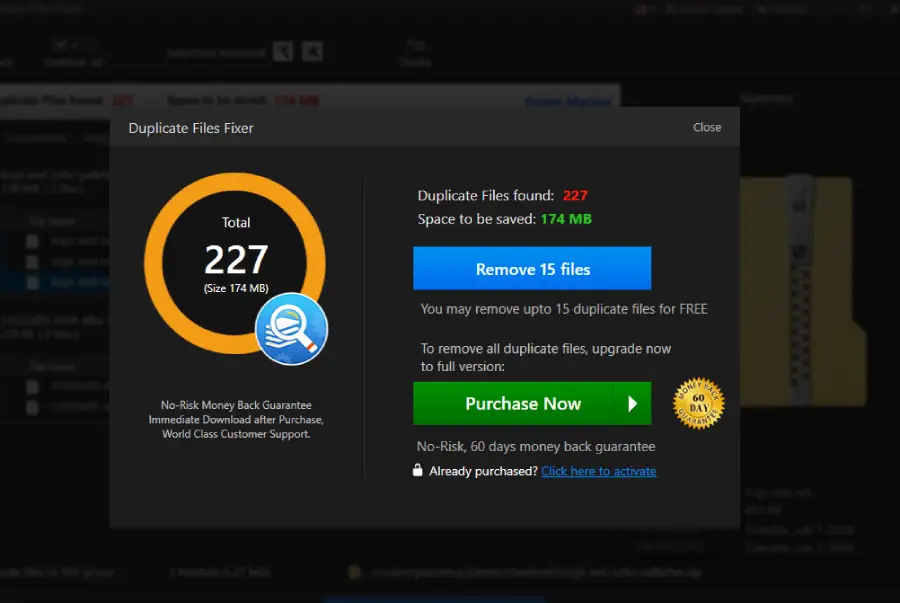 You will be able to see saved space details henceforth by deleting selected files. And that's how easy it is to use the Systweak duplicate files remover! Don't you think this process was relatively fast and easy? Because yes, it was indeed.
Additional features
There are many smart additional scanning features for the software mentioned. Of these is smart select and scan. It would do a magic scan to evaluate and delete files that are duplicates. In this manner, you won't have to worry about frequent permission.
If you decide on getting the paid version of this software, you can remove all duplicate files. It is a useful feature that comes in the full version only. That's not all. They also provide a 60 days money-back guarantee so that you can not worry and make a safe purchase.
A quick recap: final conclusion
Duplicate storage and memory pile-up is a huge concern. It is annoying and eats available chunks of storage on the hard disk. To overcome this problem, a smart solution is to make use of a duplicate file scanner and remover tool.
As a matter of fact, the Systweak duplicate files remover tool works perfectly is worth a try. It's easy to install and set-up. The scan process is rather quick, and results with analysis are something that makes it stand out from the others. If you follow the tutorial of installation and usage step-by-step and carefully, you can take full advantage of this revolutionary software.
Gone are the days where memory storage full notifications existed! Try Systweak duplicate files remover tool for free as fast as today!
Frequently Asked Questions (FAQs)
Is there any way to save hard disk storage?
Yes, there are multiple ways to save hard disk storage on a Windows device. One of the optimal solutions is to use a tool that scans the storage and removes replicated files. These can range from documents, pics, videos, and more.
Which is the best tool for removing duplicate files on Windows?
The Systweak duplicate files remover tool is one of the most efficient tools available. It is easy to install on Windows devices.
Is it safe to use a duplicate files remover tool?
Yes, it is completely safe to use.