Are you tired of being restricted to online streaming when you want to enjoy your favorite videos and music offline? Look no further! SurFast Video Downloader is here to save the day.
In today's digital age, access to online videos and audio content has become integral to our lives. Whether it's watching tutorials, entertainment, or simply enjoying your favorite songs, the need for a reliable video downloader has never been greater.
SurFast Video Downloader is a tool that simplifies downloading and converting media content from many websites. This comprehensive review will delve into the features, usability, pricing, and overall value of SurFast Video Downloader.
Overview Of SurFast Video Downloader
SurFast Video Downloader is a versatile tool that empowers users to save videos and audio from over 1,000 websites. This includes popular platforms such as YouTube, TikTok, Facebook, Twitter, Vimeo, Dailymotion, and many more. With SurFast, you can effortlessly capture high-quality media and a range of desired formats from almost any website.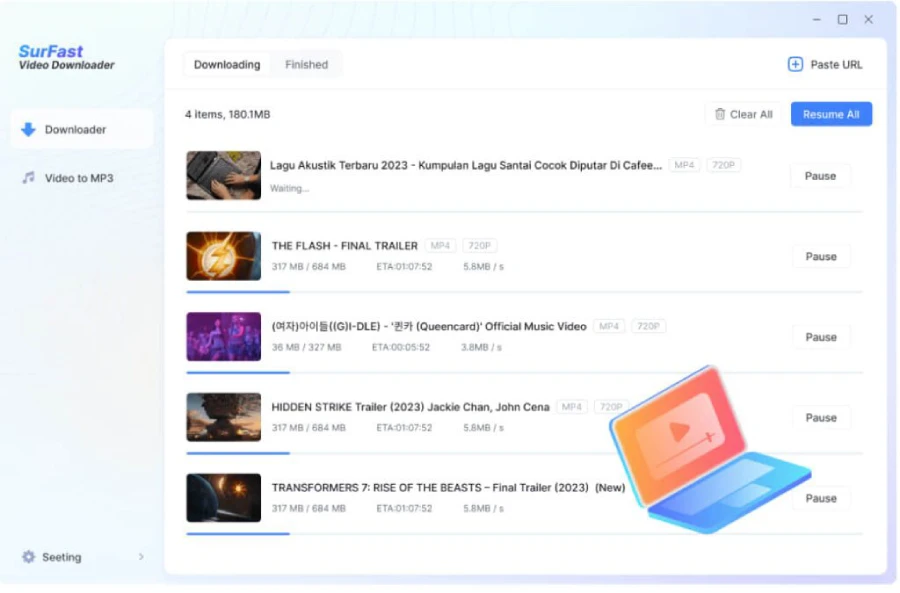 SurFast Video Downloader's compatibility with a wide range of platforms sets it apart from many other video downloaders. Whether you're looking to save a funny clip from YouTube, a catchy tune from SoundCloud, or a live stream from Twitch, SurFast has got you covered.
Interface
One of the best things about SurFast Video Downloader is its user-friendly and easy-to-understand interface. Its structure guarantees streamlined and simple downloading processes without showing users any advertisements or chaotic menus. The adless feature of this software makes it a trusted pick for users who want a capable tool for managing their media necessities.
The amazing design of SurFast's layout makes it straightforward, even for individuals with varying technical knowledge. With clearly marked buttons and navigation, even a person without tech knowledge can use this software. Anyone can use the benefits of the software effortlessly!
Features
Here are the following features of the SurFast Video Downloader:
Download Any Video from Any Site
SurFast Video Downloader boasts compatibility with many websites, making it a go-to choice for video enthusiasts. It's like having a universal remote control for the internet, allowing you to download videos from popular platforms like YouTube, TikTok, Facebook, Twitter, and more. Whether you're an avid YouTube viewer or a fan of the latest TikTok trends, SurFast has you covered.
YouTube Video Downloader
SurFast Video Downloader is not just a video downloader but also a YouTube video downloader and YouTube to MP3 converter. You can easily download YouTube videos to your PC or Mac and convert them to MP3 or WAV formats in bulk.
The YouTube Video Downloader feature of SurFast is a game-changer for those who want to build their offline media library. You can select your preferred video quality, whether it's the crisp clarity of 8K, the standard 1080p, or anything in between. Furthermore, SurFast allows you to download uploaded YouTube videos and live streams, ensuring you never miss out on your favorite content.
TikTok Video Downloader
For TikTok aficionados, SurFast offers specialized support. Whether you want to download TikTok videos or capture TikTok live streams, this tool covers you. It's a TikTok Video Downloader that simplifies saving your favorite TikTok content to your local storage.
In addition to video downloads, SurFast enables you to convert TikTok videos to MP3 format. This is especially useful to save the audio track from a hilarious TikTok video or a catchy dance routine. With SurFast, you can capture the essence of TikTok in audio form.
Facebook Video Downloader
SurFast Video Downloader comes to your rescue when downloading videos from Facebook. It provides a straightforward solution for downloading Facebook videos to your computer. Just copy the video URL, and SurFast will do the rest.
Whether you're interested in archiving family videos or saving informative content from Facebook, SurFast makes it a breeze. This Facebook Video Downloader is equipped to handle videos from your News Feed, Groups, Pages, and more.
Download Music or Audio from Websites
Apart from video downloads, SurFast Video Downloader acts as an audio downloader, allowing you to download music, songs, and audio from various websites. It supports sites like YouTube, SoundCloud, Instagram, TikTok, and Bandcamp. This makes it a versatile tool for music lovers and podcast enthusiasts.
SurFast simplifies the process of building your audio library. With a few clicks, you can download your favorite songs or podcasts and enjoy them offline, whether on a long flight, in a remote location, or simply to conserve your data usage.
Convert Video to MP3 to Extract Audio
SurFast Video Downloader includes a video-to-MP3 converter, handy for extracting audio from local video files. This feature makes it easy to separate and capture audio files from your video content.
The video-to-MP3 converter in SurFast allows you to easily convert videos to high-quality MP3 files. Whether you have a video lecture you want to listen to on the go or a memorable movie scene you want to extract as an audio snippet, SurFast gives you the tools to do so efficiently.
High Quality and Fast Speed
SurFast Video Downloader prides itself on its speed and quality. It can download videos in high resolutions, including 8K and 4K, and audio at 320kbps, ensuring you enjoy the best possible quality for your offline media. When it comes to speed, SurFast outperforms many online video downloaders and video downloader extensions. It works more stably and efficiently, providing a smoother experience.
The combination of high quality and fast download speeds ensures that your offline media collection is top-notch. Whether you're archiving 4K videos for future viewing or downloading audio tracks at the highest bitrate available, SurFast delivers exceptional results.
Bulk Download
Efficiency is key, and SurFast Video Downloader understands that. You can download multiple YouTube videos or audio files simultaneously. Whether you're adding URLs in bulk or downloading entire playlists or channels, SurFast has you covered.
The batch downloader feature in SurFast is a time-saver, especially if you're looking to build a substantial offline media library. With just a few clicks, you can queue up multiple downloads and let SurFast handle the rest. This is particularly useful for content creators who want to archive their videos or download entire seasons of a web series.
Thumbnail and Subtitle Download
SurFast Video Downloader offers the option to download thumbnails and subtitles from videos. This can be especially useful for content creators or those who appreciate customization options.
The ability to download thumbnails is a unique feature that sets SurFast apart. If you come across a video thumbnail you like, you can choose the thumbnail download feature to save it to your computer in the highest quality. This is particularly valuable for those who curate content or want to create custom thumbnails for their own videos.
Subtitles can also be downloaded with SurFast. If a video has an independent subtitle file, you can download YouTube videos with subtitles by checking the Subtitle option. This is beneficial for language learners, for accessibility, or simply for a better understanding of video content.
Customized Download
SurFast Video Downloader allows you to choose your preferred file format, be it MP4 or WebM, MP3 or WAV. You can also customize video and audio quality according to your needs. This level of customization ensures that your downloaded media is tailored to your specific requirements.
You can select the target file format that suits your playback devices and software when downloading videos from websites like YouTube and TikTok.
Whether you prefer the widely supported MP4 format or the efficient WebM format, SurFast provides options. The ability to customize video and audio quality means you can strike the perfect balance between file size and quality, ensuring your downloaded media meets your expectations.
How To Use SurFast Video Downloader
Using SurFast Video Downloader is a breeze, thanks to its user-friendly interface and straightforward process:
Paste URL: Simply copy and paste the video URL into the address box, and SurFast will load the video automatically.

Select Download Options: Choose the video format and quality you need, then click Download.

Wait for Download: Wait for the download process to finish, and you can access the downloaded media in your selected folder.
SurFast Video Downloader simplifies the downloading process, even for beginners. With clear instructions and a logical workflow, you'll save your favorite videos and audio quickly.
How To convert YouTube To MP3
SurFast Video Downloader makes converting YouTube videos to MP3 a simple process. Follow these steps:
Paste URL: Copy and paste the YouTube video URL into the address box.
Select MP3 Format: Choose MP3 as the desired format for conversion.
Choose Quality: Customize the MP3 bitrate according to your preferences.
Click Convert: Click the Convert button to start the conversion process.
Access MP3: Once the conversion is complete, you can access the MP3 file in your specified folder.
The ability to convert YouTube videos to MP3 with SurFast allows you to enjoy your favorite music offline, whether it's a rare live performance or a podcast episode you want to listen to on the go.
How To Download YouTube Playlist Using SurFast Video Downloader
Downloading YouTube playlists with SurFast Video Downloader is straightforward:
Paste Playlist URL: Copy and paste the URL of the YouTube playlist into the address box.
Select Download Options: Choose the desired video format and quality.
Download Playlist: Click the Download button to start downloading the entire playlist.
SurFast simplifies creating a collection of YouTube videos for offline viewing. Whether you're a student archiving educational content or a music enthusiast building a playlist, SurFast streamlines the process.
Compatibility
SurFast Video Downloader is compatible with a range of operating systems, making it accessible to a broad user base:
Windows Compatibility: SurFast Video Downloader supports Windows 7, Windows 8, Windows 8.1, Windows 10, and Windows 11. This extensive compatibility ensures that Windows users can enjoy the benefits of SurFast on various systems.
macOS Compatibility: For Mac users, SurFast Video Downloader is compatible with macOS 10.15 and later. Whether you're using the latest macOS version or a slightly older one, SurFast has you covered.
The broad compatibility of SurFast ensures that users of both Windows and Mac can harness the power of this versatile video downloader.
Price
SurFast Video Downloader offers straightforward pricing plans designed to cater to different needs:
Trial Version: The trial version of SurFast allows you to experience its capabilities before committing. While it has limitations, such as allowing only 5 video/audio and 3 bulk downloads, it provides up to 720p quality. Subtitles can be downloaded 5 times. The trial version is free, making it an excellent way to explore the software's features.
Paid Version: For users who require unlimited access and advanced features, SurFast offers paid plans. These plans include:

1-Month License for 3 PCs: Normally priced at $25.95 (Current discount price: $9.95), this plan contains auto-renewal, allowing you to cancel anytime. It also offers 1-month free upgrades. Please note that prices do not include tax.
Lifetime License for 3 PCs: Normally priced at $65.95 (Current discount price: $45.95), this one-time fee plan offers lifetime free upgrades. It's an excellent choice for users who plan to use SurFast over an extended period. Tax is not included in the price.
1-Year License for 3 PCs: Normally priced at $45.95 (Current discount price: $35.95), this plan includes auto-renewal, which can be canceled anytime. It also provides 1-year free upgrades. As with other plans, prices do not include tax.
The pricing options offered by SurFast Video Downloader cater to various user preferences and usage patterns. Whether you need short-term access or a lifetime of unlimited downloads, SurFast has a plan that suits you.
Conclusion
SurFast Video Downloader is a robust and efficient tool that fulfills all your video and audio downloading needs. Its vast compatibility, user-friendly interface, and customization options make it a reliable choice for both Windows and Mac users. Whether you want to enjoy videos offline or extract audio from your favorite content, SurFast Video Downloader covers you.
Say goodbye to buffering and hello to seamless offline media enjoyment with SurFast. Download SurFast Video Downloader today and unlock a world of offline media possibilities!