When people have purchased an audiobook from Amazon Audible platform, they may desire to download Audible books to MP3 and other mainstream formats to boost a more convenient offline audiobook streaming experience. However, Audible doesn't provide the direct options to grasp its audiobooks offline in MP3 format, making it a different task to grasp Audible books for preserving on other devices or media players to stream flexibly.
To overcome such barriers, a kind of software, Audible Converter, is developed to help people easily convert the formats of the Audible books to make them playable elsewhere outside Audible platforms. As there are numerous options on the market, we have picked one with a high reputation and top user rankings to introduce today, which is the MuConvert Audible Converter.
Why People Need An Audible Converter?
Originally, the audiobooks provided on Audible were all encoded in AA or AAX audio formats. DRM encrypts these two formats, a kind of streaming media protection tech used to prevent the content from being pirated. By applying DRM to the audiobooks, Audible has the way people listen to them:
Only the desktops and mobile devices compatible with the Audible app could enjoy the official download feature to download Audible books for listening offline;
The downloaded Audible books cannot be transferred to other devices (such as an MP3 player) or use other media players such as VLC or Windows Media Player to playback.
Hence, Audible Converter has become an essential software that can help overcome such limitations. The Audible books are converted to common DRM-free audio files with mainstream formats by decrypting the DRM encryption. Thus, free streaming is available.
The Best Audible Audiobooks Converter MuConvert Overview
To get rid of Audible DRM and convert Audible books to mainstream DRM-free audio formats, MuConvert Audible Converter is the best pick.
Empowering the powerful DRM decryption tech, MuConvert Audible Converter enables hassle-free access for its dear users to save the Audible books in DRM-free status with original quality, thus removing the playback restrictions added to the content. Meanwhile, by converting Audible books to mainstream formats, the compatibility of the Audible books increases. Moreover, users can transfer the DRM-free Audible books to any device and enjoy the streaming offline flexibly.
From the conversion performance, in-app operation and security, conversion efficiency, and quality, MuConvert Audible Converter can all rank in the top places. Now, access the details info below to have a more comprehensive understanding of the software.
Key Features of MuConvert Audible Converter
1. Powerful DRM Removal Functionality
To realize a completely free Audible books playback offline, the core functionality of MuConvert Audible Converter is set to be processing the DRM decryption. It empowers the advanced technique to remove DRM from encrypted Audible books, meanwhile converting the audiobooks to mainstream open-source formats such as MP3, M4A, WAV, and FLAC, thus enabling the free Audible books playback on all devices without limitations.
2. Preserve Full Audible Book Info and Lossless Quality
While processing the conversion of the Audible book, MuConvert Audible Converter can preserve the full info, including the chapter and ID3 info, enabling users to check back the file details after the conversion. Additionally, the Audible conversion would be maintained without applying any compression methods to affect the quality of the output files. As a result, users can get the 100% quality-lossless converted Audible books with MuConvert Audible Converter to ensure both high-quality and flexible audiobooks playback offline.
3. 60X Accelerated Speed and Batch Conversion Feature
The MuConvert Audible Converter can speed the conversion process to 60X faster by integrating the built-in acceleration tech in the software. As a result, the hour-long audiobooks can be downloaded within just a few minutes. Meanwhile, the MuConvert Audible Converter can also process the batch conversion, enabling users to download multiple long Audible books simultaneously to boost efficiency.
4. Extra Audiobook Splitting Feature Available
MuConvert Audible Converter also embeds an audiobook splitting functionality to download Audible books in separated audio outputs by splitting them by time, chapter, or segment, enabling more flexible audiobook content playback and file preservation locally.
How to Use MuConvert to Download Audible to MP3
The MuConvert Audible Converter makes it a simple task to download Audible books to DRM-free MP3 offline with the intuitive design. The following brief guide will clearly show you how to use the software. Let's get started to try!
Step 1: Launch MuConvert Audible Converter after fulfilling its installation. On the main interface, hit the "Add Files" icon or the big logo in the middle to import the Audible books you desire to convert to MP3 or other mainstream formats.
NOTE: It is also available to import them by directly dragging the files to the interface.
Step 2: After the audiobooks are imported, select an output format. If you get a list of items to convert, you are also able to customize the output format for all of them at once by navigating to "Menu" > "Output Setting".
NOTE: The sample rate and bitrate are also available to be adjusted here. Additionally, if you need to split the audiobooks, select a mode here.
Step 3 (Optional): By hitting the edit icon provided behind the audiobook title, you are available to customize the ID3 info of the books, such as the title, artist, album, and genre as you need.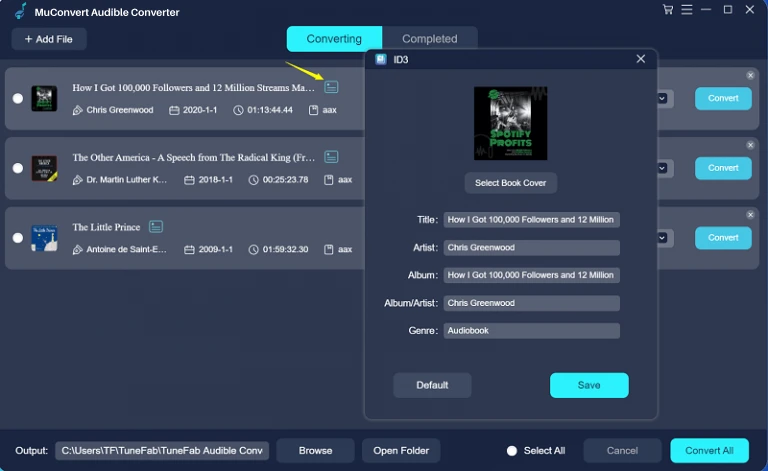 Step 4: Finally, once you click on the "Convert All" button, MuConvert Audible Converter will add all the audiobooks in the list to the conversion queue and batch download them to DRM-free MP3 files simultaneously.
Pricing and System Requirements of MuConvert Audible Converter
MuConvert Audible Converter will only enable users to get 2 times to download full Audible books during the free trial period. When reaching this amount, you must upgrade to the registered version to access the full features of the software. If you desire to use MuConvert Audible Converter continuously, you can go to MuConvert's online store to pick a registered plan to get started. They include:
1-Month Subscription: US$9.99
1-Year Subscription: US$24.99
Single Lifetime License: US$45.99
System Requirements
Before getting started with MuConvert Audible Converter, you should also pre-check whether your device systems could fully support running the software:
Windows Operating System: Windows 7 or later on 64bit required
Mac Operating System: Mac OS X 10.12 or higher (5X speed is not supported)
Processor: 1GHz Intel/AMD processor or above
Resolution: 1024×768 display or above
RAM: 512MB or higher of RAM
Analyzing all aspects, including the conversion stability, in-app security, quality-guaranteed output, and optional parameter/ID3 tags settings, MuConvert Audible Converter is competitive among many choices on the market. Hence, if you also consider finding a hassle-free but high-quality way to download Audible books, using this audible converter is the best option ever since.