Unlocking a smartphone can sometimes be challenging, especially when you find yourself locked out due to forgotten passwords, PINs, or even a malfunctioning device. Fortunately, reliable tools and software solutions are available to help you regain access to your phone swiftly and securely.
In this article, we will explore one such powerful tool – iToolab UnlockGo Android. Whether you've forgotten your phone's password, encountered a locked device after a factory reset, or are dealing with any other lock-related issue, iToolab UnlockGo is your trusted companion for a hassle-free Android phone unlocking experience.
We will discover the amazing features of iToolab UnlockGo and see how to easily take control of your Android device. With UnlockGo, unlocking your phone will never be easier, and you'll have your device up and running in just a few simple steps.
What is iToolab UnlockGo?
iToolab UnlockGo serves as a useful solution for unlocking your Android phone in various scenarios: whether you've forgotten your passcode, encountered a disabled device, or purchased a second-hand phone locked to a different carrier. Think of it as your personal key to unlock your phone's lock screen. With UnlockGo, effortlessly regain access to your device and its data without any hassle.
Key Features of iToolab UnlockGo
UnlockGo offers a compelling array of features that position it as the premier choice for unlocking your smartphone. Here are some notable features to take note of:
Effortless Passcode Removal: UnlockGo excels at effortlessly eliminating various types of passcodes, encompassing PINs, patterns, facial recognition (Face IDs), and fingerprint recognition (touch IDs).
Factory Reset Protection (FRP) Bypass: In the event that you encounter the Google FRP lock on your Android device, UnlockGo stands ready to assist you in bypass frp, allowing you to regain full control over your device.
Apple ID Removal: For Apple enthusiasts, UnlockGo can seamlessly strip your Apple ID from any device, affording you the flexibility to sign in with an alternative ID or establish a fresh one.
Uncompromising Data Privacy: Distinguishing itself from other unlocking methods, UnlockGo prioritizes the safety and confidentiality of your personal information throughout the unlocking process. Your data remains secure and private.
Compatibility Of iToolab UnlockGo
iToolab UnlockGo can work with many different types of phones from various brands, like Samsung, XiaoMi, Vivo, Oppo, etc. However, it's important to know that it might not work with every single phone model. So, before you try iToolab UnlockGo, it's a good idea to visit their official website or talk to their customer support to make sure it works with your specific phone.
What Is FRP?
FRP, or Factory Reset Protection, is a safety feature created by Google for Android gadgets. Its main job is to stop people from getting into your phone without permission after you've reset it back to how it was when you first got it. Basically, if you turn on FRP and reset your device, it will lock your phone until you put in the same Google account details you used before.
This makes sure that if your phone ends up with someone who shouldn't have it or if it gets stolen, that person won't be able to get into your private stuff unless they know your Google account info linked to the device. While FRP might be a hassle if you forget your Google account details, it really boosts your smartphone's security and keeps your important information safe from possible risks.
Samsung FRP
Samsung's Factory Reset Protection (FRP) is a security measure integrated into Samsung Android devices. Its primary purpose is to safeguard your device and personal information in the event of theft or unauthorized access. Once FRP is activated, it necessitates the use of the Google account that had been previously synchronized with the device following a factory reset.
Step-by-step Guide
Unlocking Your Android Phone with iToolab UnlockGo
Step 1: Downloading and Installing iToolab UnlockGo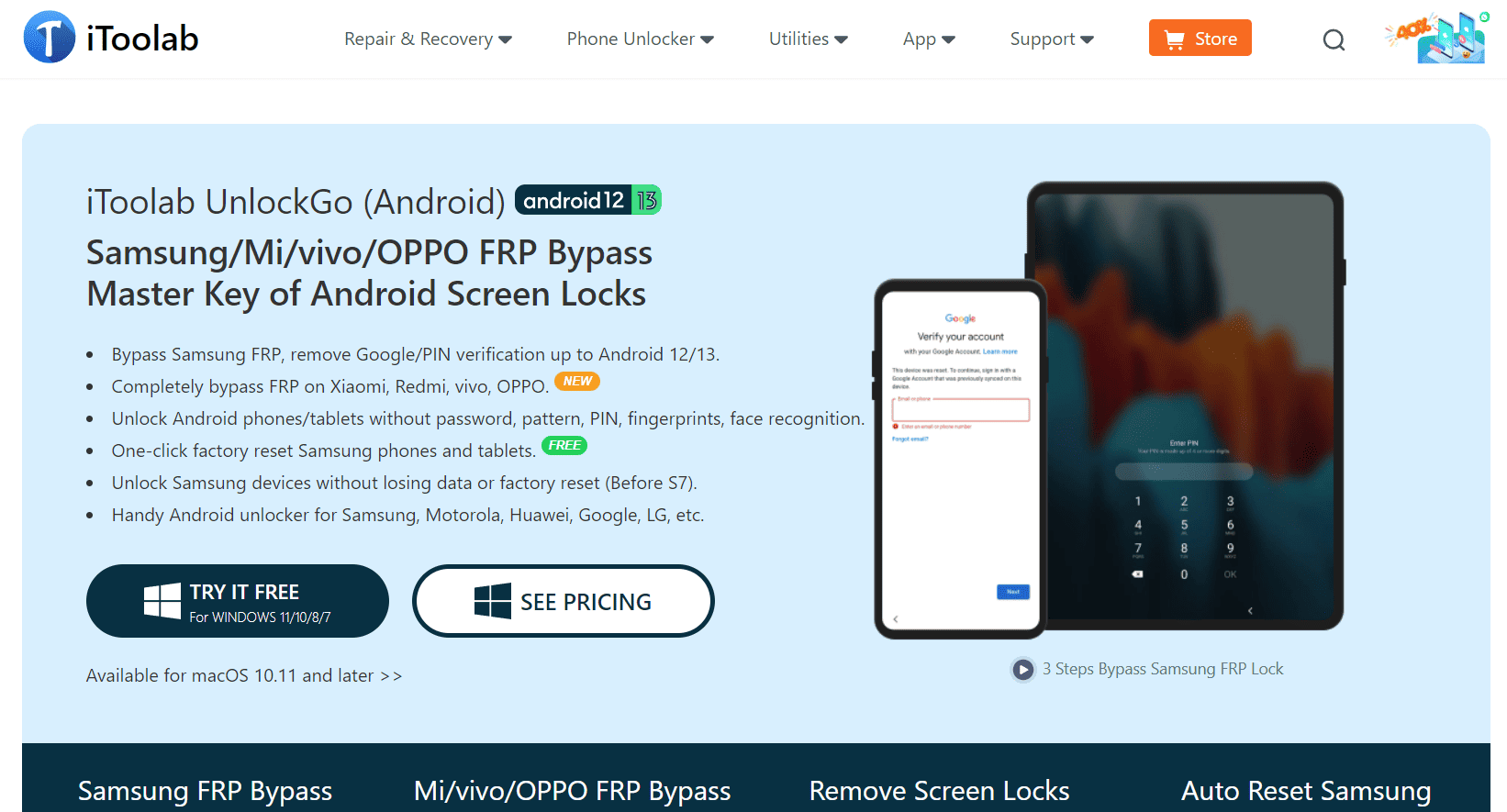 First things first, you need to download and install UnlockGo on your computer. It supports both Windows and Mac, so no need to worry about compatibility issues. Once the installation is complete, launch the program to get started.
You can download it from here: link.
Step 2: Connecting Your Phone to iToolab UnlockGo
To link your phone with iToolab UnlockGo, follow these steps:
Connect your phone to your computer using a USB cable.
Make sure to activate USB debugging on your Android device or select "Trust This Computer" on your iPhone to establish a seamless connection.
Step 3: Choosing the Unlock Method
After successfully connecting your device, UnlockGo will promptly identify your phone and present a range of unlocking alternatives. Select the method that aligns with your particular requirements, be it passcode removal, FRP bypass, or Apple ID removal.
Step 4: Initiating the Unlocking Process
After selecting the unlocking method, click on the "Start" button to initiate the unlocking process. UnlockGo will then start working its magic, removing the lock screen or Apple ID from your device.
Step 5: Verifying Successful Unlocking
Upon the successful completion of the unlocking process by UnlockGo, you will receive a notification confirming its success. At this point, you may safely disconnect your phone from the computer and relish unrestricted access to your device.
How to Bypass Samsung FRP on iToolab UnlockGo?
Step 1: Preparing your device and computer
Before you use iToolab UnlockGo, make sure your Samsung device has enough battery, you're connected to the internet, and you've installed the latest version of iToolab UnlockGo on your computer or laptop.
Step 2: Downloading and installing iToolab UnlockGo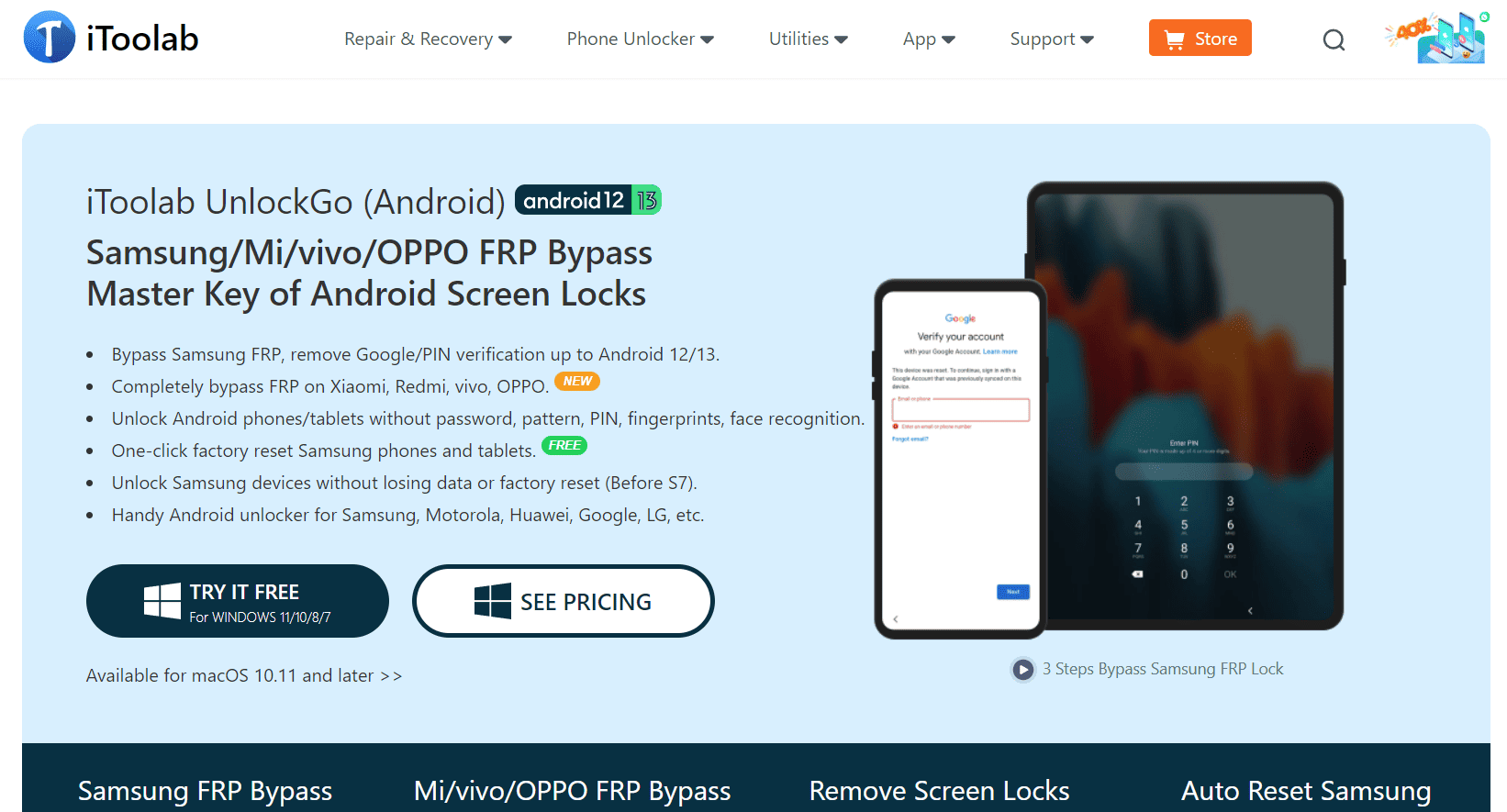 Go to the iToolab website and download the latest version on UnlockGo. Then install it on your PC/laptop.
Step 3: Connecting your device to the computer
Open UnlockGo and connect your Samsung device to your computer using a USB cable. Then, click on the 'Remove Google Lock' option from the main menu.
Step 4: Bypassing Samsung FRP with iToolab UnlockGo
Follow the on-screen instructions provided by iToolab UnlockGo to initiate the FRP bypass process. The software will guide you through the necessary steps to bypass Samsung FRP and regain access to your Samsung device.
Comparing iToolab UnlockGo to Other Unlocking Methods
1. Traditional Methods: Carrier Unlocking
The old-fashioned ways of unlocking your phone, like reaching out to your carrier, can be quite troublesome. They usually come with extended waiting periods, complex procedures, and possible charges. On the other side, UnlockGo provides a quicker and easier solution that doesn't depend on your carrier's assistance.
2. Comparing iToolab UnlockGo to Software-based Unlocking
While software-based unlocking methods exist, they often require technical expertise and can be risky. UnlockGo, on the other hand, provides a user-friendly interface that anyone can navigate without worrying about damaging their device or compromising its security.
3. Pros and Cons of Different Unlocking Methods
Each unlocking method has its pros and cons. Traditional carrier unlocking offers official support but lacks convenience. Software-based unlocking methods may seem appealing but come with risks and complications. UnlockGo combines the best of both worlds, offering a safe, efficient, and user-friendly solution.
Pros of Using iToolab UnlockGo
1. Speedy and Effective Phone Unlocking
UnlockGo streamlines the unlocking procedure, reducing the time and energy you need to invest. In just a few clicks, you can reclaim access to your phone, putting an end to the annoyance of prolonged lockouts.
2. Compatibility with Multiple Phone Models and Operating Systems
UnlockGo is compatible with a wide range of phone models and operating systems, including Apple and Android devices. Whether you have the latest iPhone or an older Android device, UnlockGo has you covered.
3. No Need for Technical Know-How
Unlike certain other unlocking methods that may require technical know-how, UnlockGo is designed to be accessible to everyone. You don't need to be a tech expert to use it. Its user-friendly interface ensures a smooth unlocking experience for users of all technical abilities.
4. Guarantees Data Safety and Privacy
Your personal data is precious, and UnlockGo understands that. With advanced security measures in place, UnlockGo ensures the safety and privacy of your information throughout the unlocking process. You can unlock your phone with peace of mind, knowing that your data is in good hands.
Troubleshooting Tips and Common Issues During FRP Bypass
Troubleshooting common errors during FRP bypass
Sometimes, when you're bypassing Samsung FRP, you might encounter unexpected errors. It's a bit like trying to solve a maze blindfolded with one hand tied behind your back. But don't worry! iToolab UnlockGo is here to help. If you run into any errors while bypassing FRP, UnlockGo has your back. It provides tips and solutions to guide you through the process and help you escape the FRP maze.
Dealing with device compatibility issues
When dealing with FRP bypass, various Samsung models may have specific compatibility needs, but iToolab UnlockGo is well-equipped to handle them all. Thanks to its extensive list of supported devices, bypassing FRP on different Samsung models is a breeze.
Issues related to device unlocking and software functionality
With iToolab UnlockGo, things become a breeze. It not only helps you bypass Samsung FRP but also unlocks your device without any hassle. Plus, it ensures that your device's software functions smoothly, giving you the peace of mind you deserve.
Conclusion
When it comes to unlocking your phone, iToolab UnlockGo offers a reliable, user-friendly, and efficient solution. With its wide compatibility, positive user experiences, and a range of features, iToolab UnlockGo stands out as a top choice for unlocking your phone securely and hassle-free. Whether you want to bypass a forgotten password, unlock a carrier-locked device, or bypass the iCloud activation lock, iToolab UnlockGo has got you covered.
In conclusion, iToolab UnlockGo is a dependable and user-friendly solution for unlocking your phone. It stands out due to its straightforward steps, compatibility with various phone models, and its focus on keeping your data safe and private. While it has a few limitations, for most users, the benefits of using iToolab UnlockGo outweigh any drawbacks.
By considering the experiences and feedback of others, you can feel confident in choosing iToolab UnlockGo as your preferred unlocking tool. It's your ticket to freedom from carrier restrictions and forgotten passwords, simplifying the unlocking process to give you the freedom you need.
FAQs
Q1. Is iToolab UnlockGo a Legal and Secure Solution?
iToolab UnlockGo is a legally compliant and highly secure software tool created specifically for unlocking your phone. It strictly adheres to the applicable laws and regulations in the regions where it is utilized. Moreover, iToolab UnlockGo places a paramount focus on preserving data integrity and ensuring the utmost privacy protection, assuring the safety of your personal information throughout the entire unlocking process.
Q2. Does iToolab UnlockGo Work with Every Phone Model?
iToolab UnlockGo is compatible with various phone models, but not all of them. To ensure it works with your specific phone model, it's recommended to visit the official website or contact customer support before using it.
Q3. Are There Any Possible Risks When Using iToolab UnlockGo?
While iToolab UnlockGo is generally considered safe, it's important to recognize the potential risks involved. These risks may include voiding your phone's warranty, the possibility of data loss during unlocking, or unexpected technical issues. To minimize these risks, it's advisable to back up your data before using iToolab UnlockGo and approach the process with caution.
Q4. How Much Does iToolab UnlockGo Cost?
iToolab UnlockGo offers different pricing options depending on your specific needs. The cost may vary based on factors such as the type of unlocking service you require and the duration of the license. To get detailed information about pricing plans, visit the official iToolab UnlockGo website or reach out to their customer support team.
Q5. Can iToolab UnlockGo remove the iCloud activation lock?
Yes, iToolab UnlockGo (iOS) can help with the iCloud lock. It's meant for unlocking screens, bypassing Apple ID, and removing screen time passcodes. If you want to remove the iCloud lock, you'll need UnlockGo iPhone Unlocker.