Are you wondering how to use an auto clicker effectively? If so, your quest ends here. In this post, I have listed a step-by-step guide to — installing, configuring, and using an auto clicker effectively.
What is an Autoclicker & How to Use Auto Clicker
An auto clicker is a type of macro or program used in business to conveniently trigger pressing a button on a certain computer screen region. Clicks can be created automatically based on various parameters or manually activated to execute pre-recorded input.
Suppose you haven't used an auto clicker before and wonder which auto clickers will be best for you. Worry not. We have listed below some of the top auto clickers available that are simple and worth trying.
Which Are the Good Auto Clicker Apps Available Now?
OP Auto Clicker
GS Auto Clicker
IO Auto clicker
OP Auto clicker
OP auto clicker is among the most widely used automated clicking programs on the market today. The most recent version is OP Auto clicker 3.0, which works flawlessly with any game, including Minecraft and Roblox. It supports all the basic auto clicker functions provided by other competitors. Moreover, it is also available for android and is free. The sole disadvantage of utilizing this program is that it lacks advanced options seen in more complete auto clickers.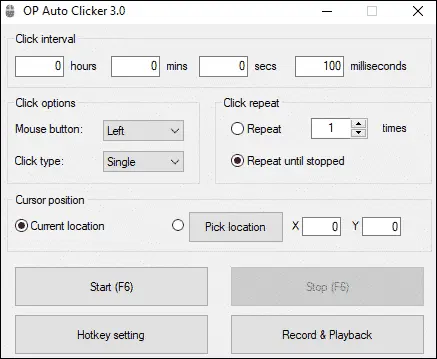 GS Auto Clicker
GS Auto Clicker is a good auto clicker software that automates mouse clicks and assists you in automating repetitive chores. It's an excellent technique to increase your productivity. This is a freeware application designed for Windows PCs to build macros with mouse motions and keystrokes to automate monotonous operations.
This way, you can leave it working in the background, push a button to launch the script, and see as the tool takes control of your mouse and conducts tasks for you. In addition, it comes with no ads and is completely free of cost with no hidden cost in the program itself.
IO Auto clicker
IO Auto clicker is a strong auto clicker program that automates users' clicks on a computer screen. Gamers use this auto clicker to simulate clicks to improve their rankings and performance when playing click-intensive games like Minecraft and other shooting games. In addition, you may utilize its Chrome installer version to conduct the fundamental duties you wish to do on the browser. For example, you may use its Chrome extension to browse new and broadcast websites, respond to surveys, and do data input jobs.
How to Install & Configure an Auto clicker?
Are you having difficulties downloading and installing your first-ever auto clicker? We have brought you a step-by-step guide for installing the auto clicker. Here we will take the example of the IO Auto clicker as it is available across all platforms and devices.
Step 1: Visit the official website to download the auto clicker.
Step 2: Click on Download now.
Step 3: You will be redirected to the download page, then click on the download. Wait for a few seconds for your download to complete.
Step 4: Run the auto clicker like a pro
Easily configure your auto clicker by using this step-by-step guide and making the most of this amazing tool.
Step 1: Firstly, open the auto clicker you have downloaded.
Step 2: You get the option to set the type of clicks and choose between single, double, and triple.
Step 3: Now, choose which side of the mouse button you want to click, left or right.
Step 4: Set the time interval or gap you want between two consecutive clicks. The lesser the time faster the clicks are.
Step 5: Set the time and time of the day you want to repeat these clicks.
Step 6: Select where you want those clicks to happen and point the cursor over there.
Step 7: Click on start. You are ready to use your first ever auto clicker on your PC.
Use auto clickers in games
Although Auto Clicker works in practice for all desktop-based gaming, as gaming technology evolves, you may need to pay extra attention to your Mouse Clicking requirements in Direct X, Full Screen, or Multi-Player games. You can use one of the many ways listed below to employ Automated Mouse Clicking in Desktop Games, depending on the technology used by your game.
Step 1: Launch Auto Clicker as Administrator to guarantee that this Mouse Clicking Application may deliver Mouse Clicks to your PC Game.
Step 2: Once you are done with admin rights, set a keyboard shortcut in the app to launch the auto clicker whenever you want it to work. As for in-game, you won't be able to exit and launch the app by mouse click.
Step 3: To those having difficulty launching it, try the mouse key shortcut in the app itself.
Step 4: When you set its launch, choose your auto clicker setting appropriate for the game. E.g., if you want to crouch after every 2 seconds or rigid tapping in games like Minecraft, just put it accordingly in the auto clicker.
Step 5: Launch the game, launch the auto clicker with your shortcut key and start using with the same way on almost every game.
What you Should Consider Before opting for an Auto Clicker?
Many programs for this sort of program are available in various ways of operation. Some Auto Clickerers, for example, will engage when the mouse clicks begin. In addition to starting the process of clicking the required boxes, the Auto Clicker will wait for the system tray to appear before starting the procedure.
This guarantees that the user sees the window and receives timely feedback while the computer processes mouse clicks. Furthermore, specific system plate auto-clicker applications enable the user to cap the number of times the system tray appears before the Auto Clicker begins pressing the boxes.
There is a separate auto clicker available in the market for different needs. Find the one that suits you the best, keeping these points in mind.
Conclusion
One of the most excellent free randomized mouse click apps for auto-clicking in a predetermined region is the auto clicker. It is commonly used by gamers and may be used to control clicks. However, the most excellent part about an auto clicker is that it is entirely free. This article discusses some of the most excellent auto-clicker programs and their capabilities and utilizes auto clicker software. I hope you found this helpful article.