We rely on internet content with traditional media content for our entertainment in the current times. This online content includes everything from songs, videos, and online shows/series. One advantage of this content is that anyone can view them anytime with the help of an internet connection. But what if you don't have the internet?
To overcome this hurdle, you need downloader software that will allow you to download songs and videos to your device. But finding a reliable tool for this job is not as easy. With apps lacking essential features to high charging services, there are so many obstacles. In this article, we will introduce you to a comprehensive video and audio downloader packed with versatile features that have an answer to all your needs.
What is Allavsoft?
Allavsoft is a video and music downloader tool that allows you to load online content to your computer in MP3, MP4, AVI, WMV, MOV, AC3, WAV, and more. With Allavsoft, you can download songs and even entire playlists in MP3 format.
For videos, you can choose between 1000+ websites to download video content. There is also an option to convert these videos into formats of your choice. All your content is 100% safe, secure, and free from viruses.
Features of Allavsoft Video and Music Downloader
Now that we have explained what Allavsoft is, it's time to go over the features of this software. Here are the top characteristics of this versatile song and video downloader tool.
Download videos in bulk: With Allavsoft, you can download multiple songs and videos simultaneously. Add all the URLs for the content that you want to download, select the appropriate format, and you are good to go.
Easily preview videos: Allavsoft also lets you directly preview your videos before downloading. It has an in-built video player that shows you the video you are downloading without leaving the Allavsoft dashboard.
Line up downloads: You can also line up your downloads and multitask without interruption. Line up all the videos, songs, and playlists that you want to load to your device, Allavsoft will take care of the rest.
Pause and resume anytime: If you have to pause the downloads, you can do that with Allavsoft without losing your progress. Resume them at any point and continue downloading like you never stopped.
Virus-free downloads: You don't have to worry about viruses when you download songs and videos from Allavsoft. All your downloads through this software will be completely secure from any threats.
Get 24/7 support: By getting the Allavsoft video and audio downloader tool, you can have 24/7 coverage. Avail easy and instant contact with our trained technical team through email or phone calls.
How to download YouTube videos with Allavsoft?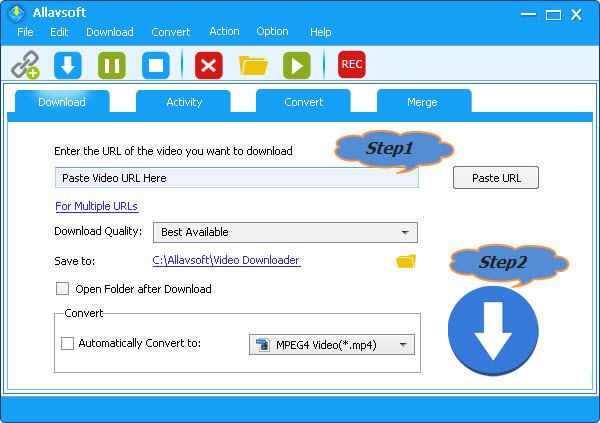 Downloading videos from your favorite video streaming service like Youtube and Vimeo is made easy with Allavsoft. With three simple steps, you can download videos from any video platform.
Select the URL of the desired video that you want to download and paste it into the desired location on Allavsoft.
Choose the preferred format for your video. The default format is mp4 which will be applicable if you fail to pick any other form.
Complete the process by clicking on the download button on the dashboard and initiating the download process.
Along with downloading videos from more than 1000 video streaming websites, you can also convert videos to any format of your desired format. These video formats include MP4, AVI, WMV, MOV, MPEG-1, MPEG-2, VOB, ASF, RMVB, DV, TS, Apple ProRes, WebM, FLV, OGV.
How to Download and Convert Spotify to MP3?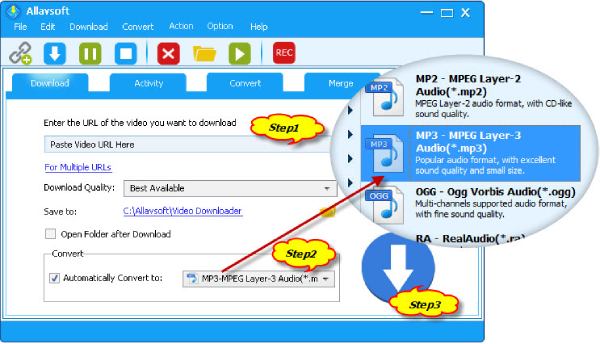 With Allavsoft, download your favorite songs and playlists from Spotify as mp3 320kbps files. Just follow these two simple steps to download songs in the mp3 format.
Copy and paste the URL for the song or playlist you want to download from Spotify on the required tab on the Allavsoft dashboard.
Select from the different quality options available, and click on the download button at the bottom right corner of your screen.
You can download any music file by following these simple steps. Allavsoft allows you to download songs from Spotify in formats such as AC3, AIFF, M4A, OGG, OPUS, RA, WAV, WMA, and more. You can also download audio files for any video from leading video streaming portals.
System Requirements
To run Allavsoft on a Windows desktop, you need to have the following specifications:
Operating System: Windows 2000, Microsoft Windows XP, Windows Vista, Windows 7, Windows 8 or Windows 10
Processor: 1GHz Intel or above, AMD
RAM: 512MB or more
Disk Space: A minimum of 30GB for the installation of Allavsoft
Screen Resolution: SVAG (800X600) or above
Graphics: A 16-bit or higher graphic card
On a Mac computer, you need the below mention requisites to run Allavsoft:
Operating System: macOS Big Sur, Catalina, Mojave, High Sierra, Sierra and Mac OS X v10.4 (Tiger), 10.5(Leopard), 10.6(Snow Leopard), 10.7(Lion), 10.8(Mountain Lion), 10.9 (Mavericks), 10.10 (Yosemite), 10.11 (El Capitan)
Processor: Intel or PowerPC G5 processor
RAM: 512MB or more
Disk Space: A minimum of 50MB for successful installation
Screen Resolution: Super VGA resolution or above
Graphics: A 16-bit or higher graphic card
Allavsoft Pricing
Allavsoft offers a free trial for users to try out the software before fully committing to it. After you take the free demo, you can choose between three plan options.
The first plan is a monthly subscription that covers up to two devices and costs $19.99. Next is the yearly plan, which supports two devices and is available for $29.99. The final option is a lifetime access license for up to three computer devices for just $59.99.
Conclusion
Allavsoft is an all-in-one integrated software tool that lets you download video and mp3 files from all the leading websites on the internet. If you want to download songs from Spotify, Allavsoft is a one-stop solution.
From downloading videos with subtitles from more than 100 portals to converting them to your desired format, Allavsoft does it all. We share everything you need to know about this tool through this article, including the platform requirements and pricing.
Allavsoft Special Discount
You can get Allavsoft For Windows and Mac at a 30% discount using the promotion code 30%OffInSpecial. Use the following link to get the discount directly.
Coupon Code: 30%OffInSpecial
Offer Duration: Valid until December. 31, 2025