More than 200 ranking signals are there used by Google and it keeps tweaking and refining on every year. The idea of optimizing for all of those ranking signals can make people shiver with horror. So, without much introduction about this topic, let's get to know about some of those ranking signals that you need for optimization in the year 2019.
1. Accordance to search intent
It is obvious that the time of searching something on the search engine, the users have some certain intents in their mind. The search engine's ultimate task is to figure out those intents to supply users with the search results, which are most relevant. Those relevant search results will appear on the top position of the search list.
The more relevant your page for a certain query, the higher it will get the position in SERPs and it totally depends on the ranking of that page. If the search intent is highly satisfying, then you are supposed to get the high result in CTR.
Read: 5 Technologies That Keep You Safe Without Noticing
You need to consider experimenting with various queries in order to know and understand the search intents hiding behind your keywords. After you are trying to find out some result on the internet, you need to type that keyword on the search box. Then you need to have a look on the first appeared result pages and figure out the search intents they have.
The time, you face that the search results are not relevant, then you need to know that the keywords are not relevant and will not let you reach to the exact need you have. In that case, try to find out corresponding pages and add more relevant contents to them to make the keywords more relevant.
2. CTR


Image Source – semrush.com
For Google, CTR is known to be one of the strongest relevance signals. Every time, it entails a significant ranking boost as CTR has high correlating with rankings. Most of the marketers use Google Search Console's search analytical report in order to find out the what people are Tend to click on the SERPs to reach their website.
However, if you want to know the exact position where you stand with your CTR, you need to have a look at the summary of CTR data that has been sorted by position in Google search.
Content
Usually, rankings and contents belong together and contents are the main treason people visit your page. To make this process easier, Google has rolled out Panda and Fred updates according to the contents that get posted daily. Though, it is also true that well written contents are not enough sometimes as there are some rules every content should have.
Read: Why You Need to Choose the Right Components in Electronics
3. Keywords on your page
In the year 2019, Keywords in the title tag will remain a powerful ranking signal as this is one of the Google decided ways to know whether the page is relevant of a certain query or not. So, it can be considered that the closer the keyword on the beginning of the title, the more your page gets listed on the top of the search result.
Along with that, the main keyword should also be present on the page's body, but you also need to keep in mind that, you should never overuse the keywords at the same time.
4. Comprehensiveness
The contents should be comprehensive as Google has become strict about the type of quality you are posting. It clarifies that, you need to aim not only just filling the piece of content but at the same time, you also have to make that content comprehensive as much you can.
In order to optimize if the content is comprehensive, you can consider using TF-IDF analysis as this can help calculate how frequent the keywords have been used on the competitors' pages.
5. Grammar
The time, you are publishing mistake free contents, it is another signal that Google is going to judge the content as one of the good quality contents. Just to make sure, you have done well, you can use some free tools available online, like Grammarly. This tool helps a lot correcting the mistakes of the contents by proofreading.
Read: How to Get More Likes on Instagram?
6. Well-structured HTML
Organizing your HTML in a clear way, you are actually ensuring the exact topic your content is all about. Search engines still remain on the HTML structure and its semantic markup. It can also happen that the peaky search engines think your content to be of low quality and make it rank low just because the HTML is a total mess.
However, there are some variety of plugins, which can help you by cleaning and optimizing your HTML. In order to make the HTML more structured, you can simply consider implementing schema markup. If you are doing this, then you are supposed to make the search engines understand your content in a better way.
7. Content uniqueness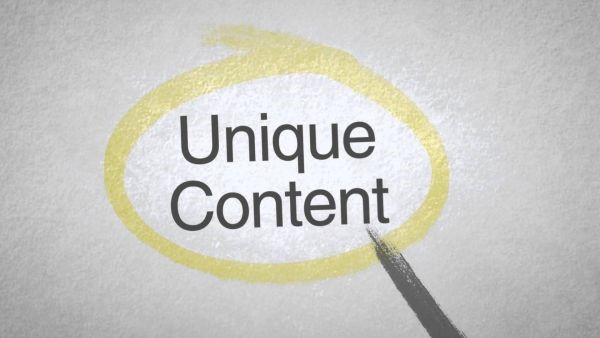 Image Source – technians.com
Google appreciates uniqueness and it penalizes the sites that have duplicate content as well. So, if you want to bring improvement within the rankings, then you must ensure that your site does not have any issues with duplication. Those have any doubt about the pages, then they can check those contents on Copyscape.
Sometimes, it is not possible for some companies to take care of these things properly, in that time, they can pay more attention on their advertisements and product descriptions to make that as diverse they can make.
8. Number of backlinks and linking domains
It is true that Google appreciates quality over quantity and for that reason, the number of backlinks still remain a powerful ranking signal. So, just have a look on the total numbers of the backlinks along with total linking domains parameters just to know if there is any need of improvement.
Read: Top 5 Online Essay Writing Services
9. Link authority
It does not matter the number of links you have, but they should be of good quality. Otherwise, this is something that can make you fall in to trouble anyway instead of bringing you a good rank. However, there are some tools, which can help you find out whether the link is harmful for your site.
10. Link anchor text
Nowadays, link anchor text is a bit less important than the other parameters for link Keyword rich anchor text still firmly stays with an important relevance signal for the Google. If you want to be on the safe side, then your links' anchor texts need to be semantically relevant to the topic of the content and should maintain diversity.
Derek Luise is working as a Jr. content writer and blogger with Ranking By SEO. He can be seen blogging about digital marketing, SEO, SMO, PPC, etc.