PureVPN belongs to the group of virtual private networks. With a 3.8 rating, it has received mixed reviews from different groups of audiences. It brings forward strong encryption, renders its support for torrenting, and brings many protocols for the customers to choose from.
However, although there are some factors, the audience is not very sure about its services. For example, it does not render support to WireGuard, and the streaming results don't seem to be very reliable.
To have a better idea about its working, plans, and offers, the PureVPN features are as follows:
Features of PureVPN
PureVPN, like other VPN, comes with all the basic security features. Some of the main things are the Slit Tunneling, Port Forwarding, Kill Switch, etc. Let check them in detail.
Port Forwarding
PureVPN provides an extra feature in the name of port forwarding. If you wish to pursue it, you have to pay a very minimal amount of less than one dollar monthly. When the configuration is proper, this feature allows the computers located outside the network to access any device connected to the local network.
You can access your device from remote locations. This feature is an added benefit for the gaming services and also is perfect for hosting small websites. You can also keep a check on your security camera.
Kill Switch
For any VPN to function as desired, a good kill switch is an important feature. As a user, you should note that this feature is default enabled, and you can disable it anytime you feel like it. When enabled, it bars your internet connection from working when you get disconnected, even by accident.
Therefore, it has a more effective use while using public Wi-Fi and saves you from hackers' attacks. Also, when you are surfing and don't want to disclose your identity, these features step in to help you out. However, you still need to maintain extra caution in unusual situations.
In some circumstances, the IP address tends to leak, which is a significant matter of concern, especially in countries with high censorship. Being a regular user, you should make sure you are not trying to use two VPNs altogether.
Split Tunneling
The android application of PureVPN only contains the split tunneling feature as of now. However, it is a convenient feature, and hence, it should be a part of the other applications. Furthermore, this PureVPN feature provides you with bandwidth conservation by letting you choose both the applications and websites that will use the VPN connection.
In simple words, it will encrypt the traffic belonging to some of the applications, but the rest will be going through the open network.
Here's something that you should note. When you install this feature on PureVPN, you get to install a list of applications on your phone. So what you need to do is mark the ones that can connect through the VPN.
Also, you can keep PureVPN to complete your watchlist on OTT platforms like Netflix.
Hence, whether to choose the services offered by PureVPN, it is better to look at the pros and cons.
Multi-Device Connectivity
We can see that most VPN services are offering 4-5 device support on a single account. But with PureVPN, you will get 10 device support. With a single PureVPN account, you can log in and use it on 10 different devices simultaneously. This is one main highlight that makes PureVPN different.
6500+ Server Location
PureVPN offers a large number of server selections. They offer 6500+ servers from around 140 countries. If we compare the server availability with other services, PureVPN offers a generous server selection.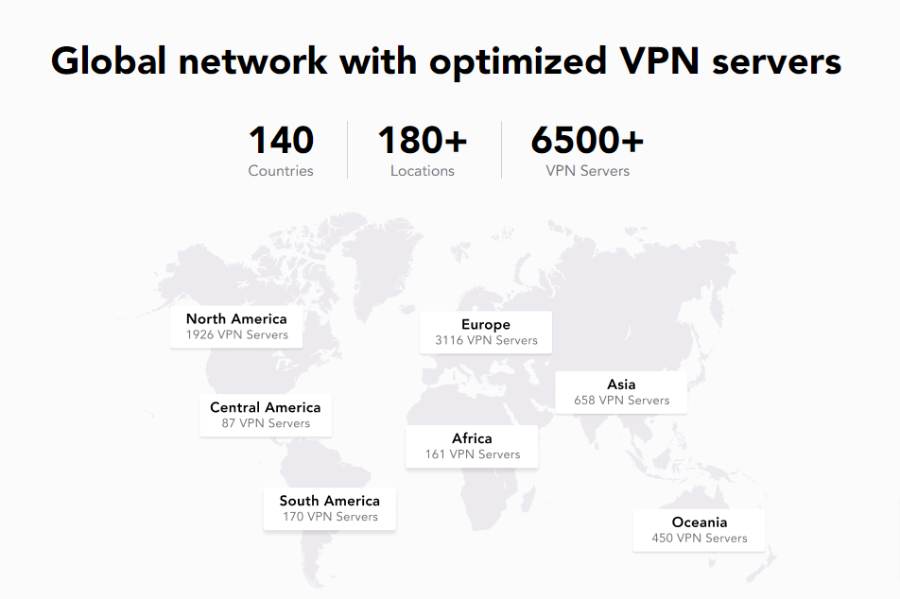 Pros of PureVPN
It has an AES-256 encryption
It can unblock some streaming sites like Netflix.
It offers a 31-day money-back guarantee to the users.
6500+ Global Server Selection
It renders its support torrenting.
There is no threat related to DNS leaks.
It offers a vast selection of VPN protocols.
It has compatibility with the Android TV.
Another advantage includes split-tunneling on Android.
It also supports port forwarding.
Multi-device connectivity up to 10 devices.
Cons of PureVPN
There is a limit on the usage of the Linux app.
There is no free version available.
It does not render its support to WireGuard.
Connection issues might be an issue.
No Ping time listed while selecting the server
PureVPN Trial
PureVPN is not offering any free trial; however, if you purchase a 1-year plan, you can enjoy a 7 day trial for $0.99. So you for an amount of $0.99, you can try PureVPN for seven days. If you wish to continue the service, you need to pay an annual amount of $69.95, and if you are not satisfied with the service, you can cancel the subscription before the trial ends.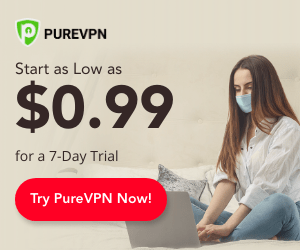 PureVPN Pricing
The PureVPN is available in the monthly plan, 1-year, and 2-year plans. The pricing is as follows:
Monthly Plan
If you are paying monthly, the subscription will cost $10.95 a month.
One Year Plan
If you are choosing one year plan, you can use a trial period of 7 days for $0.99, then pay an annual subscription of $69.95
Two Year Plan
PureVPN, a two-year plan, is the most cost-effective plan in which you can enjoy PureVPN for $79.92 for 2 years ($3.33 per month)
As listed above, PureVPN offers a 7-day trial if you opt for one year Plan. Initially, you have to pay $0.99 for a seven-day trial period and then $69.95 for the one-year plan.
All three plans have the same features, using VPN on as many as ten devices altogether. Whenever you share your account, it is essential to have a proper idea of the terms of service prohibit sharing.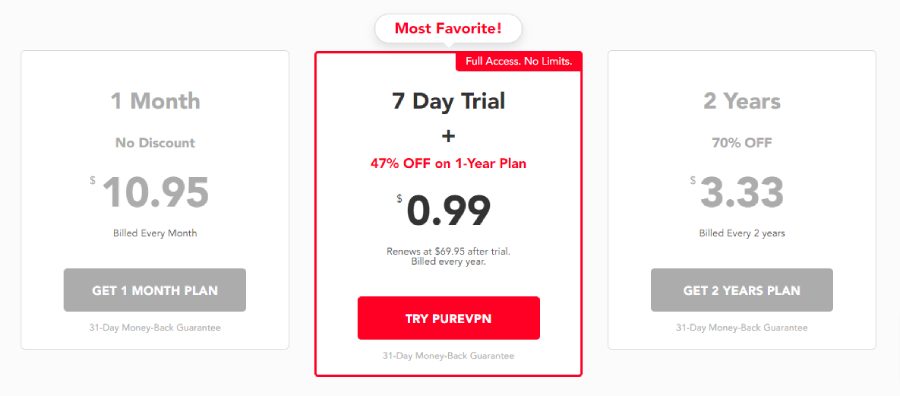 You can make payments either through credit cards or PayPal. Unfortunately, Bitcoin payments are not accepted.
PureVPN Discount on Two Year Plan
The PureVPN 2-year plan is available at a 70% discounted rate. However, you get billed every two years, and if calculated monthly, you have to pay $3.33 per month. Therefore, it is better to avail of the 2-year plan, which accounts for the cheapest of all the three pricing and plans available. In addition, the offer of a 31-day money-back guarantee is available at the sale price of the 2-year plan as well.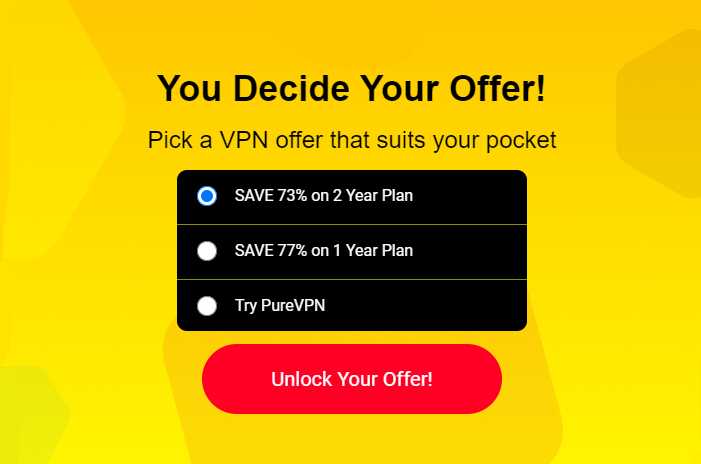 PureVPN Download and Install
If you think that the PureVPN is just for your Windows computer, here's something you need to know. More than 20 supported devices like Android, Mac, Linux, Firefox, Chrome, iPad, and iPhone.
The installation process is as follows:
Visit the App Store (Apple) and Google Play Store (Android), search for the application, and download
Create your account by entering the email address and then move further
Read the terms and conditions and continue if you agree to them.
Next up, you need to choose the subscription plan (monthly, yearly, 2-year plans).
At last, you will need to add your payment information and then checkout.
You will get access to all the services along with the features that PureVPN has to offer. If you are not satisfied, make sure to cancel the subscription before the end of the seven days. It will ensure that no extra charges are there on you or per the entire plan you have selected during the installation process. If you like it, you can continue using it for the set period.
Conclusion
There are several VPN services available nowadays, and some offer free service, some others offer both free well as paid. But the main thing we need to note is the service they offered. PureVPN is a good choice if you are looking for a paid VPN. They offer 6500+ servers globally.
One thing we found missing is the Ping time in the server list. While selecting a server can be more helpful if we know the ping time and the current server load. Other than this minor thing, PureVPN is a good choice.