PrivadoVPN is a high-velocity VPN with extremely secure servers in 47 countries worldwide. They use 256-bit-AES encryption to prevent hackers, governments, businesses, and everybody else from spying on your online activity.
Save yourself from protection breaches, securely access geo-blocked content, and shield your data with the click of a button using any of their easy-to-use apps for Windows, macOS, iOS, and Android. In the last year, we choose Privado as one of the fastest VPN services, and now in 2022, we can say that Privado will perform the same. Privado also released more features and a dedicated FireTV app recently. Also, for a limited period, Privado is offering an exclusive discount for our readers. You can find the custom offer link at the end of the artcile.
Note: PrivadoVPN got some significant updates in recent times. Those new changes and features are added at the end of this article.
Features and Pricing of PrivadoVPN
PrivadoVPN was founded in 2019, and, as their name itself suggests, they have instituted several amazing features to increase your online protection and privacy. Let's discuss those features and why they are an incredible value.
Features Of PrivadoVPN
PrivadoVPN has many great features for both their free and premium plans.
Zero-Log VPN Policy
Fast and smooth PrivadoVPN ensures robust, no-log access, so your online data remains private and secure. Nobody needs a record of your online activity, and PrivadoVPN keeps it a secret.
Faster Internet Speed
PrivadoVPN is designed for fast connections with servers worldwide, so you don't have to sacrifice speed for security. They can also help you bypass data throttling to get the most out of your Internet.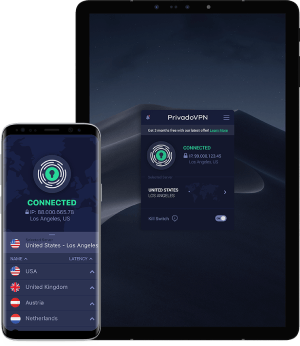 User Friendly
Download any easy-to-use apps for Windows, iOS, macOS, or Android and connect to a secure server in seconds. You can also set up other operating systems by following simple, manual instructions.
Avoid Geo-blocking
You can put yourself virtually anywhere on Earth to securely access region-locked content by changing your IP address.
Premium Network
Enjoy one of the most stable, fastest, and undeniably reliable connections to the global PrivadoVPN network wherever you go.
24/7 Customer Support
The PrivadoVPN technical team is available and ready to assist you anytime, 24/7, whenever you face any problem. Their team is experts who listen to users and help them find effective solutions quickly.
Pricing
PrivadoVPN's free version provides 10 GB of data every month and 12 available servers. It is also one of the only free VPN services that allow full access to P2P and Netflix. To unlock all of PrivadoVPN's features, however, we suggest a monthly paid subscription for $7.99 or an annual for $4.99.
PrivadoVPN Free – Includes 10 free GB of data per month and access to 12 ultra-fast, international servers. All you need is a verified email address. They don't even ask for a payment method at this level.
PrivadoVPN Premium (1 month – $7.99/month)- Premium features include unlimited file transfer, access to hundreds of worldwide servers, a SOCKS5 proxy, and the ability to log in on 10 devices with one account.
PrivadoVPN Premium 12 months ($4.99/month, charged annually – $59.88/12 months)- This plan is the same as the one-month plan. The only difference is the pricing, which gets you all of the great PrivadoVPN Premium features for a lower overall price.
PrivadoVPN Server Locations
PrivadoVPN has over 200 servers in 60 towns in 47 different nations. Since there are servers in every major global region, it's possible to bypass geo-blocking and other content restrictions. That means access to more streaming video and audio without physically relocating.
As a company, PrivadoVPN is very proud of its network and infrastructure designed to maximize performance and customer response. While most VPNs are at the mercy of third-party server farms, PrivadoVPN employees have extra control over their network security. They own and control their own data facilities and fiber lines to run constant optimization and respond quickly to issues as they arise.
Using the PrivadoVPN app, you can select from any server location on their network and connect with one click. In addition, choosing a preferred server to connect to when you automatically start your device is also possible.
OpenVPN Support For PrivadoVPN
Regarding VPN protocols, you can choose between OpenVPN and IKEv2. These advantages and disadvantages make it easy to customize your online experience.
OpenVPN is, without a doubt, the most secure VPN protocol in existence. Its encryption has never been publicly broken and results in the highest level of data integrity. However, it is also slower than other protocols because it is so thorough. People willing to lose little speed for extra security will find OpenVPN their best option.
IKEv2, on the other hand, is also incredibly secure but faster. It saves time by sending data packets in batches compared to a checksum on the other end. That makes it easy to safely get the encrypted data to its location and put it back together. There is a slightly higher chance of data corruption due to missing packets, but it's a relatively rare occurrence. If speed is your concern, you'll love the IKEv2 connection.
While not technically a VPN protocol, we should also mention that the best speeds for P2P come by using PrivadoVPN's SOCKS5 proxy. These servers are also located in cities around the world. Unlike VPNs, they don't encrypt your data at all but mask your IP address.
Because the SOCKS5 doesn't take the time to encrypt your files, it is astonishingly fast. Moreover, you can connect to other people through a P2P client while remaining anonymous. And since it works at the application level, you can push only your P2P traffic through that and keep the better security of your VPN for web browsing, Usenet, gaming, or anything else you do online.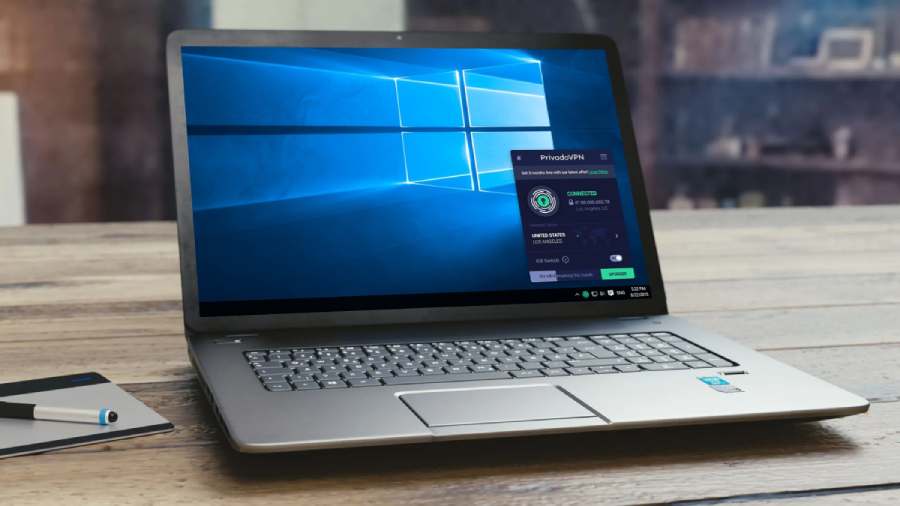 PrivadoVPN Platform Support
PrivadoVPN is now available with dedicated apps for FireTV and Android TV. Counting all, the service is now available on the following platforms.
Windows
Mac
Android
iOS
Android TV
FireTV
Issues with PrivadoVPN
Along with the advantages, we found some issues with PrivadoVPN, though we want to preface by saying they're not related to their service or reliability.
While the PrivadoVPN app is generally pretty good, we did notice a few times that it didn't connect properly. Initially, this was on Android devices, but the same problem eventually appeared on Windows. However, we can fix this by logging out and logging back in.
Similarly, we had some disconnection issues when we first logged in. Again, customer support was able to help get us running correctly, but it was frustrating, and we can see why somebody new to the service might not want to go to the trouble of reaching out.
Fortunately, with PrivadoVPN, you're not restricted to using the app if it's causing issues. You can download the OpenVPN config files from the website and use the OpenVPN client on Android and Windows. So, there won't be an issue, and you can enjoy the blazing speed and advanced security.
Final Words
PrivadoVPN is a fast and remarkably secure VPN service. This VPN uses the strongest current encryption and has a strict no-log policy that ensures your privacy. Moreover, you can easily activate the Kill Switch option to maintain security even when your VPN connection is interrupted.
In the previous version, PrivadoVPN was not offering the WireGuard Protocol. However, the newer version does support the WireGuard protocol with a fast, secure network.
Do you want to try PrivadoVPN Premium but are worried about committing to a paid subscription? Then you can feel comfortable signing up because they have a 30-day Money Back Guarantee. In addition, you can get a full refund if you're not 100% satisfied with their service.
All in all, the advantages of PrivadoVPN heavily outweigh the downsides. For a brand new VPN, they already understand the needs of privacy-minded customers and have done great work meeting them.
Privado Offers
You can get the Privado VPN for the best-discounted price of $2.50 per month for a limited time. You can visit the offer page and grab your VPN account for only $30 per year. The offer is available for a limited time.
PrivadoVPN Latest Updates in 2022
By the mid of 2022, PrivadoVPN got some updates, and the following are the changes you can see in the newer versions.
Improved and Modern UI
PrivadoVPN got some design improvements, and you can see some UI changes in the latest PrivadoVPN app.
Speed Improvement
The app got some optimization in the VPN protocols, and the connection speed improved. Now, PrivadoVPN automatically picks ups the best encryption protocol to provide the maximum speed over the VPN.
Imroved Peformance In China
PrivadoVPN improved the app's performance and service in China with recent updates. So now, the VPN performance in China got some major improvements.
Split Tunneling
Split Tunneling capability is now available in Windows, Android TV, etc. In addition, the feature will soon be available on macOS.
Get an incredible 77% discount on PrivadoVPN now with 1 year Plan.