The 0x0 0x0 error code is a frequently encountered problem among Windows users that can disrupt the usual operation of their computers. This error code, often referred to as the "0x0 the operation completed successfully" error, can manifest for a variety of reasons, ranging from conflicts in software to hardware issues.
For a smooth computer experience, it's important to understand why this error happens and how to fix it. In this guide, we'll explore various ways to solve the 0x0 0x0 error on Windows, so your system can work well again.
What is the 0x0 0x0 error code?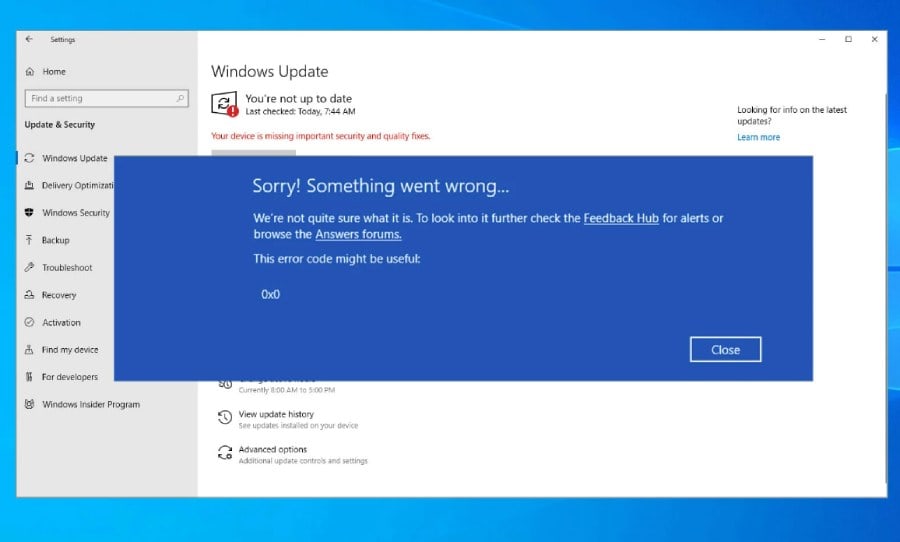 The 0x0 0x0 error code is a bit like a mysterious message from your ex – you're not sure what it means, but you know it's not a good sign. In the world of technology, this error code usually signals an issue with your Windows system. It's as if your computer is saying, "We've run into a problem, and I'm not sure what to do about it.
While error codes can sometimes feel as mysterious as the Bermuda Triangle, there are a few common triggers behind the 0x0 0x0 error code. It can be caused by software conflicts, corrupted system files, outdated drivers, or even a bad day for your computer's hardware.
The 0x0 0x0 error can be a little problem or a big headache. It might stop you from using certain programs, crash your computer, or even cause the scary Blue Screen. So, don't just ignore it and hope it goes away on its own.
Troubleshooting methods for fixing the 0x0 0x0 error code
1. Perform a System Restore
System Restore makes snapshots you can return to when a problematic driver or application causes lots of errors. It's a good match for fixing the 0x0 0x0 Windows error because it only removes apps, drivers, and updates installed after the snapshot was created. Your personal files and data stay safe.
Here's how to use a restore point:
Search for "Control Panel" and open it.
Go to "Recovery" and select "Open System Restore."
Pick a system restore point created before the 0x0 0x0 error happened.
Click "Next." Your computer will then go back to that restore point, removing any troublesome apps, updates, and drivers.
Finally, click "Finish" and check if the problem is resolved.
2. Updating Windows and drivers
It's important to keep your Windows system current to ensure it runs smoothly and without errors. To see if there are any updates, do the following:
Click the Start button and choose Settings.
In the Settings window, click on Update & Security.
Select Windows Update from the menu on the left.
Click the Check for updates button.
Windows will then look for updates and install them automatically if any are available.
Drivers that are outdated or don't work well with your system can lead to different errors, like the 0x0 0x0 code. To update your drivers, follow these steps:
Right-click the Start button and pick Device Manager from the menu.
In Device Manager, expand the categories and find the devices marked with a yellow exclamation or question mark.
Right-click the device and choose Update driver.
Opt for the "Search automatically for updated driver software" option.
Windows will then check for the latest drivers and install them if they're available.
3. Perform a Disk Cleanup
Disk Cleanup is a useful tool that helps you reclaim storage space on your hard drive, leading to better system performance. It hunts down temporary and cache files, as well as unnecessary program files that could be causing runtime errors.
To use Disk Cleanup, follow these steps:
Simultaneously press the Win and R keys on your keyboard to open the Run dialog.
Type "cleanmgr" in the search bar and click OK. This will launch the Disk Cleanup utility.
Wait for the process to complete. You can then check the boxes for the items you want to delete.
After finishing, restart your computer and check if the issue is resolved.
4. Scan for Malware and Viruses
To determine if your computer has been infected by malware or viruses, you can utilize Windows Defender or third-party antivirus software. Before conducting a scan, it's crucial to update your antivirus to ensure an accurate assessment.
For a virus scan using Windows Defender, follow these steps:
Open Windows Defender by clicking its icon on the taskbar or use the search menu and type "Windows Defender."
Select "Virus & threat protection" and click "Scan options."
To perform a thorough scan, choose "Full Scan."
Click "Scan Now." The duration of the scan may vary, depending on the number of files and programs on your computer. It might take an hour or more.
Once the scan is complete, check for any viruses in your system. If it detects any, remove them and then verify if the issue persists.
5. Running Windows troubleshooters
Windows has helpful tools called troubleshooters to find and fix common problems. To use one, follow these steps:
Press the Windows key + I to open Settings.
Click on Update & Security.
Choose Troubleshoot from the menu on the left.
Pick the troubleshooter that fits the issue you're facing, or use the general Windows troubleshooter for a broad check.
If the generic troubleshooters don't resolve the 0x0 0x0 error code, there might be specific troubleshooters available for that particular issue. You can search for error-specific troubleshooters on the official Windows support website or other reliable sources.
6. Performing a System Reset
If the previously mentioned methods haven't resolved the issue, you might need to consider this as your last option. Resetting your computer will restore all settings and configurations to their original factory state. You can also opt to erase all files if you've already backed up your data.
Here's how to reset your Windows computer:
Search for "System" in the search menu and open it.
Select "Recovery" from the options and click "Get started."
You can choose between "Keep my files" or "Remove everything".
Then, click the "Reset" button to initiate the computer reset process.
Once completed, this should ideally resolve all existing errors, including the 0x0 0x0 Windows error code.
Conclusion
To sum it up, dealing with the 0x0 0x0 error on Windows can be annoying, but you can overcome it. By using the troubleshooting steps mentioned in this article, like restarting your system, keeping Windows and drivers up to date, and using the Windows troubleshooter, you can successfully fix the error and bring back stability to your computer. Don't forget to stay proactive by regularly updating your software and drivers to reduce the chances of encountering the 0x0 0x0 error in the future.