Email and business are inextricably linked. Email helps to resolve daily issues between colleagues within the company. It is also one of the essential communication channels for interacting with customers and business partners. After all, you definitely cannot work without email in 2021.
Whether the alliance between email and business will be successful depends on choosing a reliable hosting company. How to find a great option among the various email hosting providers? You can use Google search. This way, you will get many companies with different plans and prices. But which provider should you choose?
If you do not sign contracts with hosting companies daily, the article "Best Email Hosting Providers for 2021" prepared by Sitechecker experts will help you to understand the specifics of the issue. Read below for the best personal email hosting review.
Experts Teach How to Choose Web Hosting And the Best Email Hosting Providers
You don't need to be an expert to find the best email hosting for small businesses. It is enough to read one detailed article and heed the professionals' advice.
In the article "Best Email Hosting Providers for 2021", you will learn:
Four factors to look for when choosing a company
The different types of email hosting
Five best email hosts
Useful hosting and SEO tools
Useful links for detailed comparisons of the two providers
Most popular email hosting questions
In order not to miss anything, read the article to the end!
Four Factors to Look For When Choosing a Company
In this article, experts recommend considering storage limits, mobility, spam filters, and security. Why these characteristics?
The storage limit is the first must-have question to a provider when picking a hosting. The more space, the less often you have to delete emails. Sometimes business correspondence should not be removed at all, as it can contain valuable information. So think again before you save on storage.
A spam filter is another vital issue when we are talking about correspondence with business partners and customers. Without spam filters, you can never be 100% sure that letters reach the recipient.
For two other factors in choosing a provider, read Sitechecker's best email hosting services review.
Top 5 Best Email Hosts
It is not enough to know how to choose a hosting provider for your email. You also need to know the companies that give this service on the market.
Today, it is so easy to find a provider on the Internet. There are cheap and expensive options, with different plans and features. But importantly, there are also good and bad hosts. And you never know which option you have until you start using it. Yes, many providers offer a free trial period (usually about a month). But it's ideal when you deal with the best right now.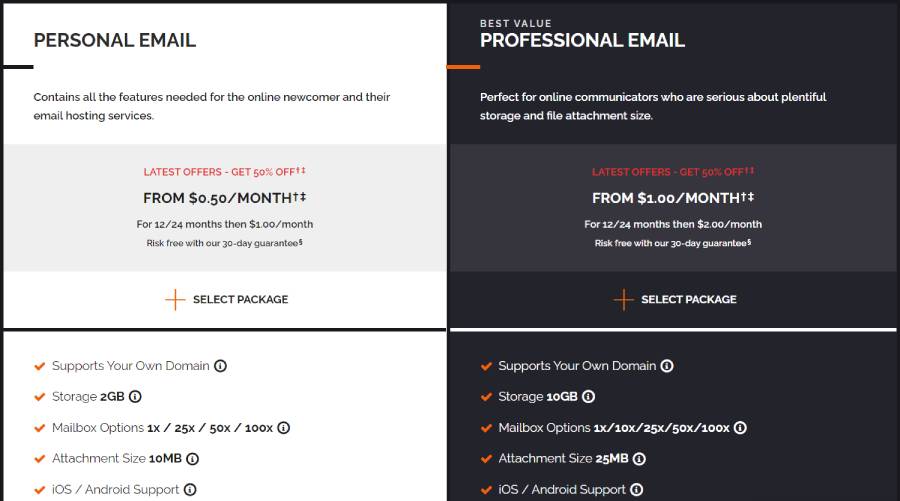 In the article, you can find the names of the five best email hosts (according to Sitechecker). You may have previously heard of them. Or maybe you've already considered a few of the companies from the top list. Anyway, one more expert opinion certainly will not be useless.
Find out which email provider is the most reliable and which of them offers the best spam protection.
Is the Article "Best Email Hosting Providers for 2021" Difficult to Understand?
The article is written as clearly as possible. Yes, there are terms that you may not know. For example, storage limits, SSL, or admin panel can be new for you. But don't be afraid of these words! The text contains detailed explanations of all factors and characteristics, so you hardly need to search these terms on Google.
The best-hosted email service review is for people who are choosing a provider for the first time or want to update their knowledge in this subject. After reading the article, you will not have any questions. Instead, you will get a clear understanding of how to choose hosting for corporate or personal email and which companies to contact.
Build and grow your business with the most reliable email web hosting!