The DLC release of Minecraft Jurassic World is on its way to steal your heart. So be ready to broaden your smile and to feel at the top of the world as, after the hiatus of deadly coronavirus pandemic, Minecraft has come to satisfy the hunger and craziness for the dinosaur-themed world.
Yes, Minecraft has welcomed a beautiful park based on Jurassic movies, which will attract people with its jaw-dropping work. You will feel as if you are watching a grand movie. This wonderful news looks absolutely stunning, that will make you land at a picturesque, charming, and a tranquil island where life is pure bliss! The heart-stopping making of 65 million years is on its way! So, welcome to the Jurassic world.
In this world, players can get a bucket full of things such as training and crafting dinosaurs. It will solve hassles and build exhibits.
Minecraft Official Website
However, people can even have fun going on a trek for exploring dinosaur DNA. It is a piece of lovely news that has its description on the official website of Minecraft.
On the site, one can use the NPCs team and vehicles for solving disasters. Also, you can earn a great score. The Park encompasses over 60 dinosaurs that also include hybrids. Also, it includes different classic dinos such as the Tyrannosaurus Rex along with 21 skins. So, don't worry about fun, you will find it here in abundance. It was the vision of Dr. Hammond in the year 1992.
Moreover, the Minecraft Jurassic World is getting implanted with the DNA of some dinosaurs as Mojang.
Along with Minecraft, Mojang also has a hectic schedule this whole year. It has recently been expanding an enormous Nether Update.
Further, the studio was having a busy time working on the off-shooting of Minecraft Dungeons that currently achieved its DLC of Jungle Awakens.
Further, Mojang offers an amazing opportunity for players to make their separate world to making a unique habitat for their favorite prehistoric creatures.
The detail says, the DLC of Jurassic World for Minecraft announces a spellbinding luxury resort. It is a resort that features your favorite and dear dinosaurs from the amazing films. And do not forget, you're the manager of this Park! People can't keep calm hearing this as they want to get in the action as soon as possible with this amazement.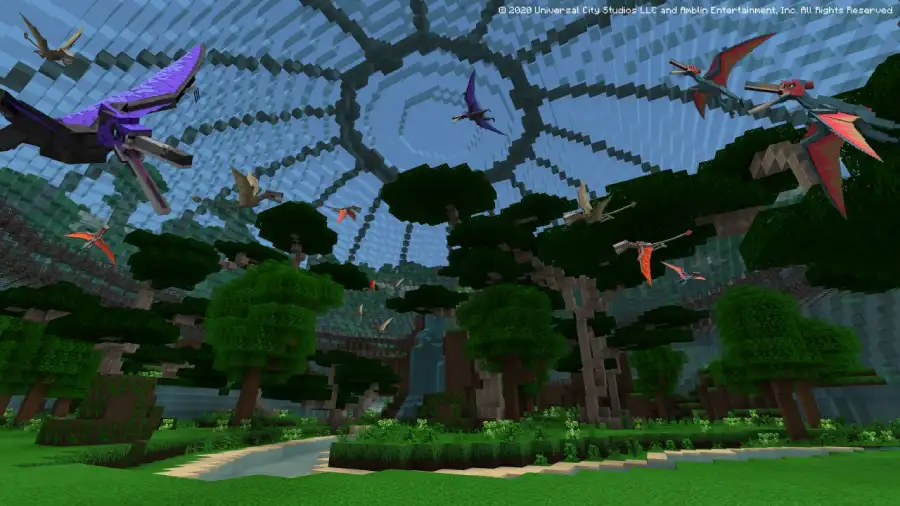 So, give self-invitation to this perfect Jurassic World Park and be the manager and feel like a king!
Related: The Best Super Nintendo Classic Games for Free Time
Fabulous Creatures
To get yourself drenched in the sweet syrup of joy with these super cool creatures, Minecraft Jurassic World is even releasing a Character Creator item that is free. It is an item called Blue Hoodie that is rare to see.
If you are interested in trying this game, then at Minecraft Marketplace, you can see the Minecraft Jurassic World DLC. Also, one can learn a lot of recent add-ons by browsing the website of Minecraft.
About Minecraft Game
Minecraft refers to a video game where players break apart and create different block types in 3D worlds. The two primary modes of the game are Creative and Survival. In the world of Survival, the game players should find their building food and supplies. Also, they must interact or communicate with moving creatures or blocklike mobs.
Furthermore, the zombies and creepers are a few dangerous games that it is famous for. On the other hand, in Creative, the players of the game are given the supplies. Also, these players don't need food for their Survival. Further, these players can break very block type right away.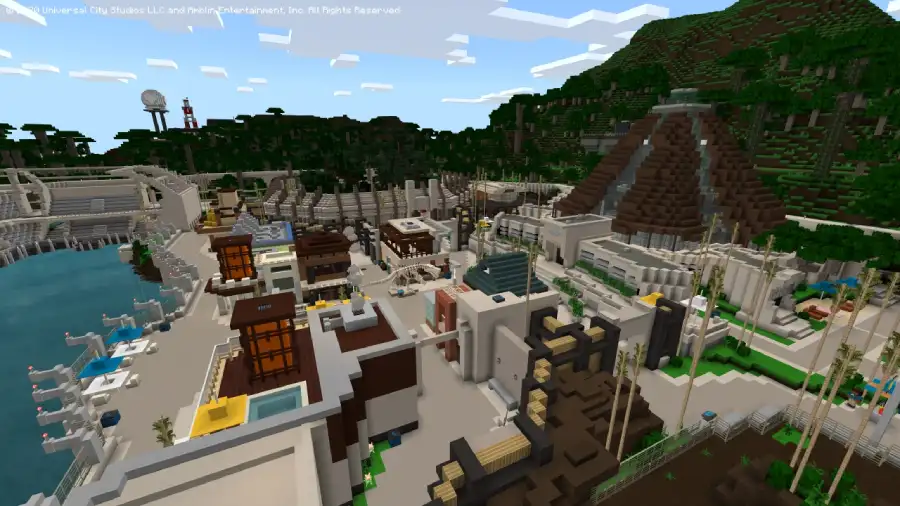 Is there any level or point?
The answer to this question is, No! The purpose of this game is to explore and build! And of course, Survive!
How can players play it?
Gamers can play by themselves, or they can play games online with other players. The tablet and smartphone versions give you different options of multi-player via Wi-Fi networks. In this, players can link to a thousand Minecraft online servers or games, a few of which comprise battling with other players.
On which devices you can play the game?
The versions on which one can play this game are Xbox 360, Macs, and PCs. Also, there is a version for the iPad, Android smartphones, Kindle Fire, and iPhone.
Related: How Community Will Be at the Center of Game Development This Decade
How much does it cost?
The tablet version is $6.99, the Xbox edition is $20, and the computer version is $26.95.
Where do you find it?
You can download the Mac and PC game on the minecraft official website. The editions of tablets and phones are sold via Amazon.com, Google Play, and iTunes App Store. Moreover, you can see the Xbox version at Xbox Market Place or Xbox Games Store.
How to start the game?
The young players aging 12 should have a parent, creating an account for these players. So, players have to take permission from a parent before you go online.
In this generation, Minecraft has its modern version called Super Mario. An amazing internationally known game type it is. You possibly know the things already, unless you have been residing on the moon.
It is on the games consoles, tablets, phones, and computers. It is present at the local malls. Further, it occupies kiosks with T-shirts and plushies. Also, there is an education initiative and semiannual convention ("MineCon") in the schools.
Meaning Of Minecraft
The Minecraft word refers to a portmanteau of mainly two verbs, namely, to craft and mine. To retrieve a dirt block plus to punch a dirt block building with is called the first verb, i.e., the mining. When you begin "Minecraft," it is the first step one must follow.
Related: How to Maximize Your Mobile Gaming Experience
The second thing is, once players start retrieving enough blocks, what they require to do is a craft. In this, blend the resources players have mined for creating many intricate tools. To create fundamental tools, "Mining" for punching a tree/wood allows you to do tools creation. Those primary tools allow players to mine many difficult resources that allow players creating very complicated tools & items.
Interestingly, the most satisfying and cheering mining resources' cycle plus creation from those resources attracts millions of enthusiastic players worldwide. And surprisingly, it's the most fundamental Minecraft level.
Minecraft's flip side says, unfortunately, does not envelop exploration. In Minecraft, every time players begin to have a new world; it stands unique. It means that levels are generated randomly, and they are based on the parameters set.
There are a few constants too, such as night or day cycle. Some levels contain materials like trees, water, dirt, etc. there are bedrock, underground caves, mountains, crazy jungles, enemies, creepers, and so much more.
Summary
After knowing so much about this game, your excitement must be on cloud nine. So with wide-open arms, welcome the Minecraft Jurassic World that significantly knocks your aesthetic door with the arrival of "Universal Pictures on dinosaurs thrillers."