Released last year, Lumonitor is a device that brings many advancements to the world of portable monitors. There's a superb 4K resolution accompanied by cutting-edge touchscreen technology and incredible responsiveness. You also get a powerful built-in battery and Hi-Fi speakers. Plus, excellent compatibility is another reason why this model is a cut above the rest.
The item is highly optimized, and we're about to cover all the features that make Lumonitor a must-have.
Lumonitor Key Specifications and Features
Here's a brief overview of Lumonitor's best attributes:
Brilliant 4K ultra-HD resolution
User-friendly and lightning-fast touchscreen technology
High-capacity integrated battery and stereo speakers
Sleek design
Universal compatibility
Plug-and-play functionality
Phenomenal Resolution
Ultra-HD 4K resolution is Lumonitor's strongest suit. It makes for crystal-clear images and videos, as well as gaming sessions. No matter what activity, you'll feel fully immersed in the display due to incredible clarity and depth.
Intuitive Touchscreen Technology
Lumonitor's touchscreen is powered by a state-of-the-art system called PinPoint. The technology makes the display highly responsive, regardless of the size of your touch or stylus strokes. This ensures total control of every movement, making the item ideal for a large number of activities:
Coding
Graphic design
Art
Photography
Gaming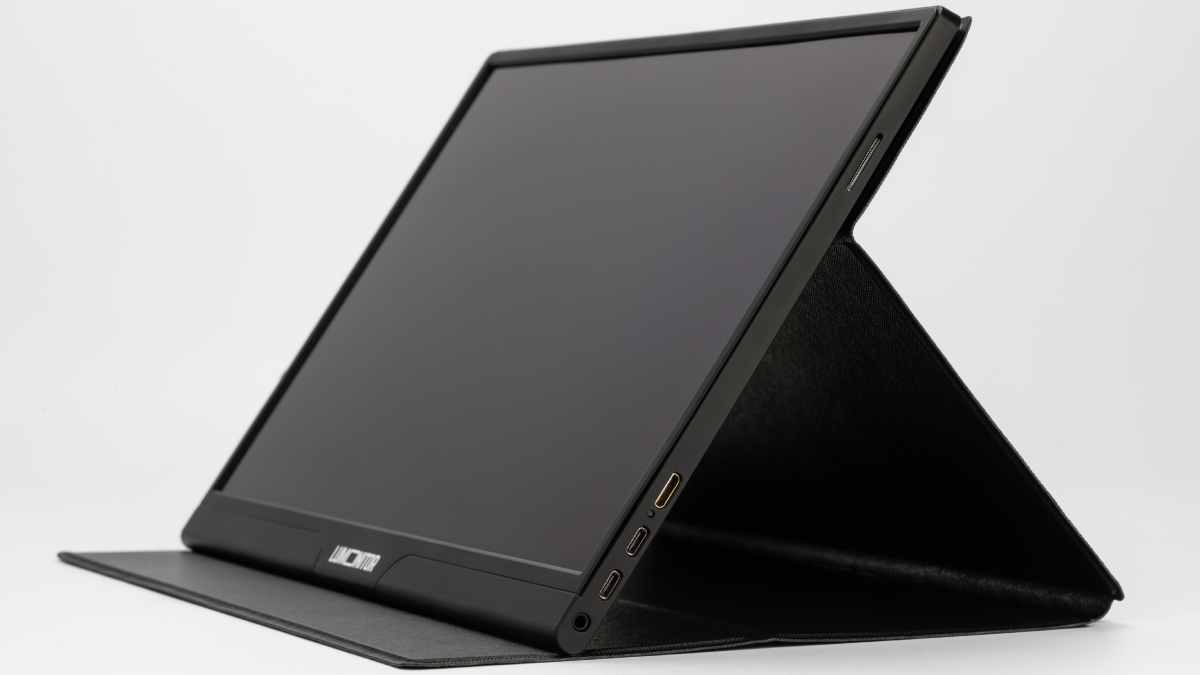 Not only that, but the response rate is negligible. With less than 10 milliseconds, you'll experience nearly instant responses and extremely satisfying fluidity.
Built-In Battery and Stereo Speakers
Another great thing about Lumonitor is the integrated power source. With a built-in high-capacity battery (4000 mAh), you don't have to connect to other devices and drain their energy. In addition, the self-sufficient battery memorizes all your settings, so you don't have to start from scratch with each subsequent session.
Furthermore, you don't have to bring in external speakers, either. Both sides of Lumonitor come with a Hi-Fi stereo speaker grill. The component produces pleasing, high-quality sounds and dynamic bass to complement the first-class viewing experience.
The Lightest and Slimmest Solution
With so many robust features, you'd expect the device to be extremely bulky. However, the reality is entirely different.
Lumonitor is the lightest and narrowest portable monitor on the market, at just 1.3 pounds and six millimeters. You'll highly appreciate the travel-friendly design since you can fit Lumonitor in almost any backpack or laptop case without using up too much space. This way, you can take multiple devices to work and expedite your daily assignments.
Industry-Leading Compatibility
Versatility is yet another aspect where Lumonitor outshines the competition. The machine is universally compatible, meaning you can connect it to any device. Here are some of your options:
Desktop computers
Tablets
Laptops
Smartphones
Xbox and PlayStation controllers
Gaming consoles
The item also works with a number of operating systems. Whether your device is powered by Windows, iOS, or Linux, Lumonitor will support it.
You also get a wide range of ports:
USB-C
HDMI
3.5-millimeter AUX headphone jack
Micro USB
Consequently, there's no need to carry extra cables or adapters to link other gadgets.
Plug-and-Play
Lumonitor is extremely user-friendly owing to the plug-and-play properties. Namely, the machine requires no laborious setup, and you don't need to download any apps or software to get the model up and running. Once connected, Lumonitor immediately starts displaying the content it receives from the other device.
Final Thoughts
Lumonitor has proved to be very practical and versatile since it can meet the needs of various users. Gamers, artists, editors, coders all enjoy the portable monitor due to its terrific resolution, intuitive touchscreen technology, integrated battery, and compact design.
You simply can't go wrong with Lumonitor. Check out the product right here and add it to your collection.