Whether you're running an office or trying to get the most out of your wifi connection, any network can benefit from an access point to ensure that all devices receive the best signal possible.
Business networks are vital to keeping operations running smoothly, as employees need access to the network from wherever they happen to be working at any given time. To ensure that your employees can get on the network without fail and without driving out of their way, you can equip your business with an easy-to-install and configure wireless access points.
Here we will check one such access point that is easy to configure and handles wifi management easily, the Grandstream GWN7664 access point. This access point supports the latest 802.11ac wifi standard, and it's straightforward to install, as it doesn't require any extra wiring or configuration when installed in an indoor environment!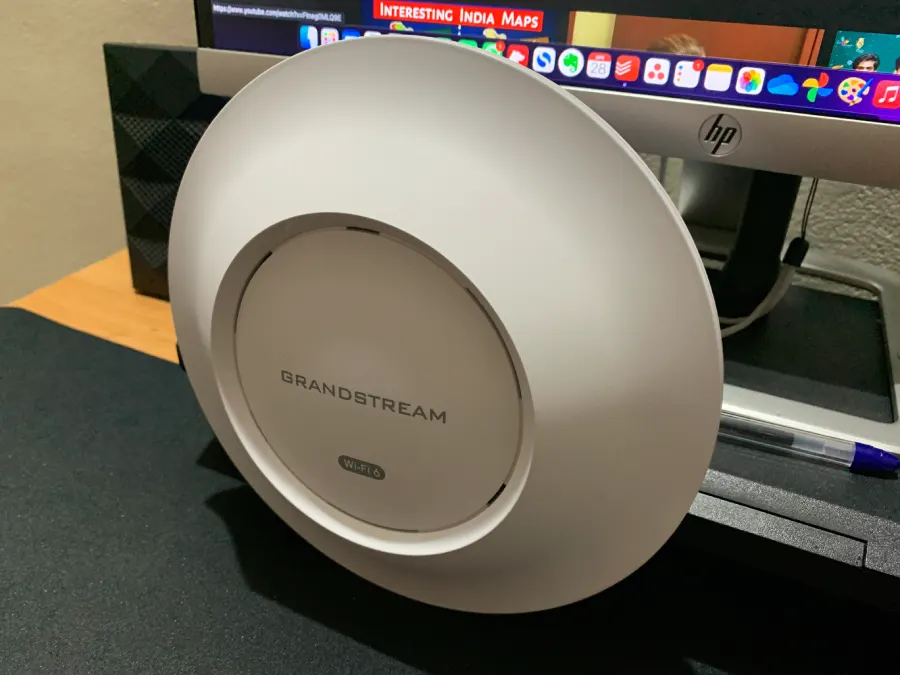 The Grandstream GWN7664 access point offers advanced features like link aggregation and automatic channel selection to help boost your network's performance and make your workday smoother. Here's everything that will tell you about the Grandstream GWN7664 to determine if it suits your business needs.
Before going into the details of GWN7664, let's check what an Access point is and how GWN7664 does its job as the access point for your business.
What is an Access Point
An access point, or AP, is a networking device that connects to other devices using wifi or via an ethernet connection. The AP receives signals from nearby devices, such as a router or another access point, then it will be transmitted to another wifi device within the circle.
An access point is primarily used to expand an existing network by providing additional access points for connecting users and devices. A typical example is an office building where the AP broadcasts wifi internet signals throughout its floors.
While they are often called APs, most companies now use terminology like access points or wireless routers. At the same time, it might seem like a trivial distinction; avoid confusion by knowing your company's terminology.
Grandstream GWN7664
Here we will do a small gwn7664 review, the latest wifi 6 AP From Grandstream. The Grandstream access point, GWN7664, features dual-band 4×4:4 MU-MIMO technology, DL/UL OFDMA, and a sophisticated internal antenna design to improve interference mitigation, and provide stable connection, increase throughput, and expand coverage range. Ideal for deployments in small to medium businesses with heavy wifi usage.
The controller is embedded within the web-based interface for administration to administer this centrally deployed wifi system. It also has a voice-over-Wi-Fi interface for deployments and connects easily with Grandstream wifi-enabled IP phones.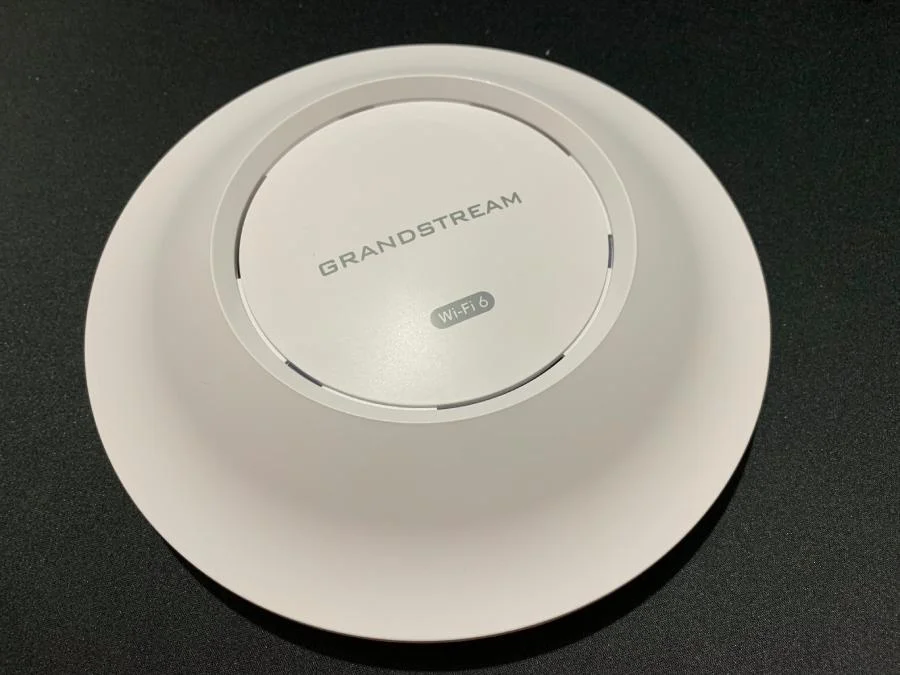 The GWN7664 provides high-quality wifi access points for wireless networks with medium to high user density. In addition, it supports advanced quality of service and low latency real-time applications.
The Grandstream GWN7664 is a secure enterprise access point that provides reliable, high-performance connectivity for your business. This enterprise-grade device offers an all-inclusive package for a low price—perfect for SMBs on a budget.
To simplify it without the technical terminologies, we can say that GWN7664 is the most advanced and latest wifi 6-enabled access point from Grandstream, which is one step ahead of the conventional wifi 5 access points.
What is Wifi 6
It's a next-generation wireless networking protocol—the same primary job of internet connection, with improvements that result in better speeds.
Wifi 6 (aka 802.11ax) is coming, bringing several new features that network administrators need to know about. One of these features is support for MU-MIMO (Multi-User Multiple Input Multiple Output).
This means that wifi networks can better deal with multi-device scenarios, such as multiple phones or tablets connected to a single access point. However, supporting more than two simultaneous devices could be cumbersome and risky when wifi networks are limited in their capabilities.
Because wifi 6 takes advantage of MU-MIMO technology, it should be easier to set up and maintain stable wifi connections in environments where many users are connected simultaneously.
Features of Grandstream GWN7664
The GN7664 is a powerful business access point supporting 802.11ac, delivering speeds up to 1.3Gbps* and providing unmatched coverage and performance in your wireless network. Easy installation and monitoring: Get step-by-step onscreen instructions for installation and set up and detailed historical information about your network's activity through an intuitive dashboard.
3.55Gbps aggregate wireless throughput, 3.5Gbps aggregate wired throughput
Dual-band 4×4:4 MU-MIMO with DL/UL OFDMA technology
Up to 175-meter coverage range
Supports 750+ concurrent wifi client devices
Includes 1x 1G Port and 1x 2.5G Port
Advanced quality of service to ensure real-time performance of low-latency applications
Anti-hacking secure boot and critical data/control lockdown via digital signatures, unique security certificate/random default password per device
Self-power adaptation upon auto detection of PoE or PoE+
The embedded controller manages up to 50 local GWN APs; GWN. Cloud offers unlimited AP management, & GWN Manager offers on-premise software AP management.
What Makes GWN7664 One of The Best Access Point
Following are the few things that make GWN7664 a great choice.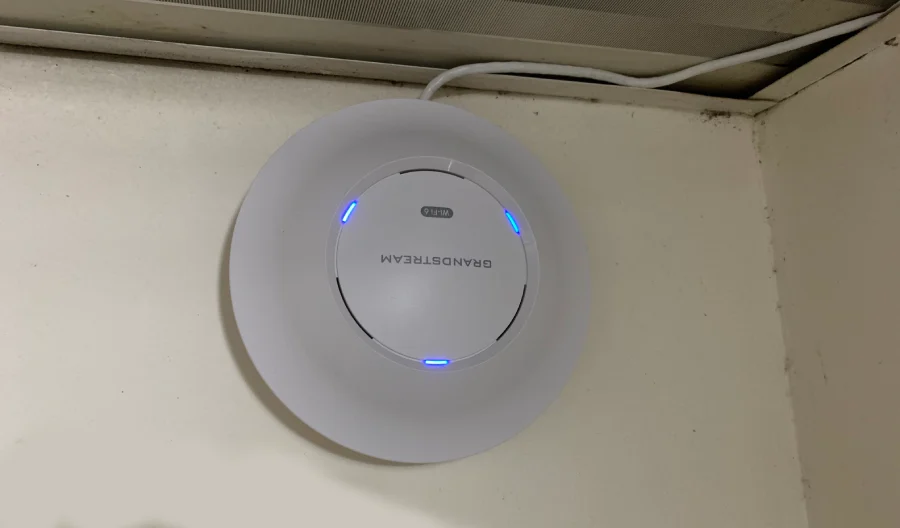 WiFi 6 Capability
The first benefit is its wifi 6 capability. Since the device is wifi 6 enabled, it offers a much-increased stream for communication, increasing the connection speed and space. In short, you can connect more devices to a single access point without losing the connection speed.
It offers full support for the lower version also. It is not required to have the device connecting to the access point have wifi 6 support. Wifi 5 devices can also connect to GNW7664 without any issue, which means that devices having wifi 6 or lower support can connect to grandstream access point GWN7664.
GWN Cloud Management
What makes GWN7664 handier is its cloud management solution. Grandstrem is offering free cloud management solution for your access point. Generally, we access the wifi router or the access point locally using the local IP address with other devices. So we can do all the customization and access controls without any issues. But when considering remote access, the access and the controls are limited. So you won't get complete control or access to all the functionalities with regular remote access.
But when it comes to GWN7664, the story is different. GWN7664 offers the traditional local access and management console for managing the device. You can completely control the device from any computer within the local network. Apart from that, a premium could base service called GWN Cloud.
With GWN Cloud, you can access the access point from any part of the world with its advanced remote access feature. Once you connect the GWN7664 device with the GWN Cloud account, you can access the device control panel directly by visiting the gwn.cloud website from any part of the world. Unlike traditional remote access, GWN Cloud offers the same access control from the local network. So here, remote access means complete control without any limitation.
Another benefit of the GWN Cloud is connecting an unlimited number of devices. For example, suppose your office or business place has multiple access points in single or multiple locations. In that case, you can connect all the access points to the single cloud portal and manage all the devices from a single control panel.
GWN Dashboard
GWN Cloud and GWN Management offer a great control panel with an intuitive dashboard. You can find all the network-related details in a single window, including the bandwidth usage, Top connected clients, websites, top SSID, etc. The GWN Cloud and its dashboard offer much more, which cannot explain the same in a short description. We will explain the details information about the GWN Cloud and its features in a separate article.
PoE/PoE+ Capability
GWN7664 comes with the Power Over Ethernet (PoE) option, by which you can connect the device using a single Ethernet cable that carries the Internet and the power through a single line. This help to mount the access point on a wall or the roof with a minimum wire setup. You can design the access point with a single ethernet cable. If you use a PoE power adapter for the supply, you can keep the adapter in another place and use a single ethernet cable for both the Internet and power supply. This makes it easy management of the device.
Maximum Coverage and Connections
The GWN7664 comes with the capacity to hold a large number of wireless devices. The device can provide access to more than 750 devices simultaneously, and the higher signal strength helps extend the coverage to more than 150 meters. The cool thing is that the signal can pass through 1-2 walls without any signal losses.
Gigabit Connectivity Support
The GWN7664 is capable of providing a throughput of 3.55Gbps wireless connectivity support. So if you are using a Gigabit connection, you can use this access point to give the wifi connection a higher connection speed, which is the best.
Multiple SSID Support
With GWN7664, you can create up to 32 different SSID. If you compare the same with a regular wifi router limited to 2 SSIDs or a maximum of 4 SSID, including the guest network, GWN7664 offers 32. Depending on your business nature and needs, you can create multiple SSIDs that can be used for different purposes. Each SSIDs can be controlled and customized with its capability and privileges.
GWN App for Android, iPhone, and iPad
GWN Cloud functionality can be accessed from the mobile app also. Grandstream offers a dedicated mobile app to manage the app's Cloud devices. But the GWN app is limited in its capability, and you can't do much with the mobile app. It is easy to monitor network usage, SSID, etc. But the controls and the options available within the app are limited. So, we recommend using the GWN.cloud website for cloud management.
GWN Captive Portal
GWN7664 offers a Captive portal to manage guest connections. You can create a dedicated SSID and can be connected to the Captivity Portal in which the guest can connect to the network using some voucher code, mobile-based OTP, etc. This connection model can be found in public wifi networks in Malls, Hospitals, etc.
Guest can directly connect to an open network, and the authentication can be done using a mobile number, social media account, etc. In addition, you can create unlimited vouchers from the Captive Portal, and the same coupon can be shared with the guests. Guests can use this voucher to connect to the network without any passwords.
Whom Grandstream Access Point GWN7664 is For
The hardware for your private wireless network is only half of what you need. It would help if you also ran a private branch exchange (PBX) to manage and host calls to any phone on your system. To run a PBX, you need an IP gateway device.
The Grandstream GWN7664 provides a way for users who want their own home or small business network with no hosted service required to create their own completely self-contained communications system that allows them to receive and make VoIP calls over their wifi network without requiring users to pay per minute charges by using outbound PSTN trunks.
How to Buy Grandstream GWN7664?
If you check the website, you can see that the online purchase option is unavailable. So, Grandstream GWN7664 is available only through retail and reseller channels. However, you can quickly get the product from third-party online and offline shops.
Conclusion
The Grandstream GWN7664 is a solid all-around AP with great functionality and price. If you're looking for an AP with more advanced features, like Intrusion Detection and Prevention, you may want to consider another model. However, if you are looking for a straightforward way to expand your network coverage area without breaking your budget, look at Grandstream's GWN7664. It will not disappoint!