Both Google Nest Mini & Google Home Mini have developed into excellent voice assistants. The design of the Nest mini is similar to the original Home Mini. But, their features make them separate products.
Google has launched both the Nest Mini and Home Mini at an affordable rate with a lot of added features. So, let's delve into the details and find out what things make these two products distinct from each other.
Google Nest Mini Vs Google Home Mini
1. Design
According to the company, the home mini is a small disk covered in fabric made from 100% recycled plastic bottles. The top of the disk contains three dots, which are used to communicate functions, like, listening, running, or initiating setups.
You can tap the sides of the Home Mini to stop or mute a process. There is a small mic switch at the button to turn the mic entirely off when needed. This mini speaker comes in various colors, like, orange and blue.
At first glance, the appearance of the Nest Mini looks just the same as the Home Mini. It is small and comes in a wide variety of colors, chalk, charcoal, coral, and sky color. This Google speaker also comes with touch controls, which allow you to control the music playback, while a microphone switch enables you to turn off active listening.
We have noticed that the factory resets of both the devices are different. For the Hometime, there's a tiny factory reset button below the power button that you can hold for 10 seconds.
You will not find this button in the Nest Mini. Instead, you turn off the mic, press, and hold the speaker's center when the LED light turns orange and holds for 10 seconds.
2. Sound
Sound has never been a strong point of the Home Mini. It has a 40 mm driver for sound, that you can find in large headphones. This smart speaker is not designed for music lovers. However, Google Nest Mini also has a 40 mm driver, but Google reports it resigned the sound system to improve the speaker's audio quality.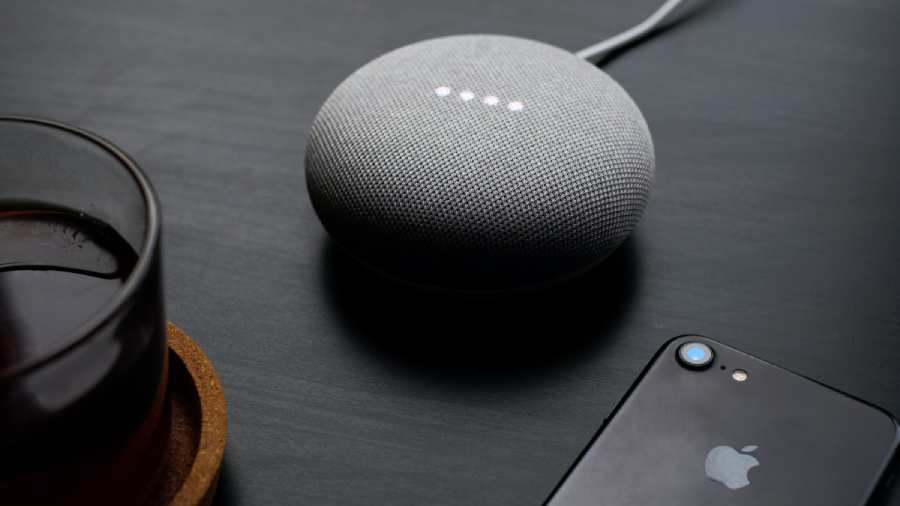 We found that, compared to Home Mini, Nest Mini is musical. Need loud music? Both speakers can be grouped together with other Home Mini and Nest Mini and fill your room with the true stereo sound.
3. Applications
Home Mini and Nest Mini both work as smaller smart assistants for large hubs. You can use them in your small spaces to upgrade your home system. These Minis smart speakers mostly at home on a desk, perched on the counters, or hanging out by workspaces.
They don't work well as alarm clocks since there's no easy way to tell the time. If you prefer as a voice assistant in the morning, they could work as alarm clocks.
You can also connect two smart speakers to obtain great auditory illusions, which is worth giving it a try. For that, all you need is to do, set up the speakers around 10 feet apart from each other.
It will work well if you place them on the same level. After that, you can connect them via the Google Home app. When you do this, you will suddenly experience the richer and more natural, and loud sound.
4. Features
Since they are both backed by Google, Home Mini and Nest Mini's features are almost similar, enabling you to control your home devices hands-free with your voice.
The activities Google assistant performs are incredibly varied; the powerful AI voice can answer any question and perform tasks within its reach. Right from answering your questions to checking your emails. These devices are getting smarter with every passing day.
For example, both smart speakers can place free calls in the US and stream music via apps like Spotify and YouTube. If you purchase a new Nest Google Mini, it offers a stable connection when you play music wirelessly from any device.
You will be glad after knowing that both these speakers can also send requests to open a YouTube video over to Chromecast TV and control home things like smart security cameras, smart lights, and more.
New Google Mini can also be used as an intercom; this allows you to talk to anyone in your home using your phone.
5. Price
Google Mini and Nest Mini were launched at the same price. Recently Nest Mini is available at Rs. 4,499, the same as the launch price of Home Mini in 2017. And Google Home Mini is currently available at Rs. 3, 999.
If you are looking for an upgraded and affordable smart speaker, you can go for Nest Mini because there is no huge difference in both the speakers' prices.
Take Away
Undoubtedly, Nest Mini has won the race. The best part is it's only Rs.500 more than the Home Mini (based on the current sales price). Even if you find Google Home Mini, we would recommend going to the Nest Mini.
Made with sustainable practices, it comes in a double sound capacity, subtle design changes, and the ability to hang on the wall are enough reasons to choose Nest Mini over Home Mini. The ability to connect with any device via Bluetooth is another useful reason to purchase it.
All in all, if you are looking for a Google speaker, then Nest Mini is the ideal choice for you because of desiring audio quality, cost-effectiveness, and high functionality.