Network Attached Storage, simply NAS, is an invaluable tool for professionals and hobbyists. You may find many NAS from different companies in the market these days. Synology is in the market with its presence at the top. Even though we can see other models ranging from 2-bay devices to multi-bay systems, we will check a 4-bay NAS from Synology, which is Synology DS420+.
The Synology DiskStation DS420+ provides many essential tools to business owners and entrepreneurs, including license-free features like remote access, file management, and even consolidated backup and instant recovery backup solutions for Windows and Mac computers, built-in security tools to protect your devices against evolving threats, and more.
This NAS supports up to 16 TB of storage in each bay, making it a 64TB storage device. In addition, the device comes with an inbuilt 2GB RAM, which can be further expanded up to 6 GB of RAM, allowing you to store and process large amounts of data without worrying about losing speed or any performance issues while accessing it. In this article, we can see how to start using the Synology NAS DS420+ right away!
What is a NAS?
A Network Attached Storage (NAS) device is a server designed to store and share files over a network. A NAS server typically has one or more hard drives connected to the network, making it easy for users to access and share files. A NAS can be used for various purposes, such as backing up data, storing media files, or sharing files with others on the network.
The Synology NAS DS420+ is an excellent option for those looking for an easy-to-use and affordable NAS device. The DS420+ can run different tasks simultaneously due to its Intel Celeron J4025 and Dual Gigabit Ethernet Ports. It also features two USB 3.2 Gen 1 Port, which allows you to quickly transfer data from external devices like USB hard drives or flash drives to the NAS for centralized management.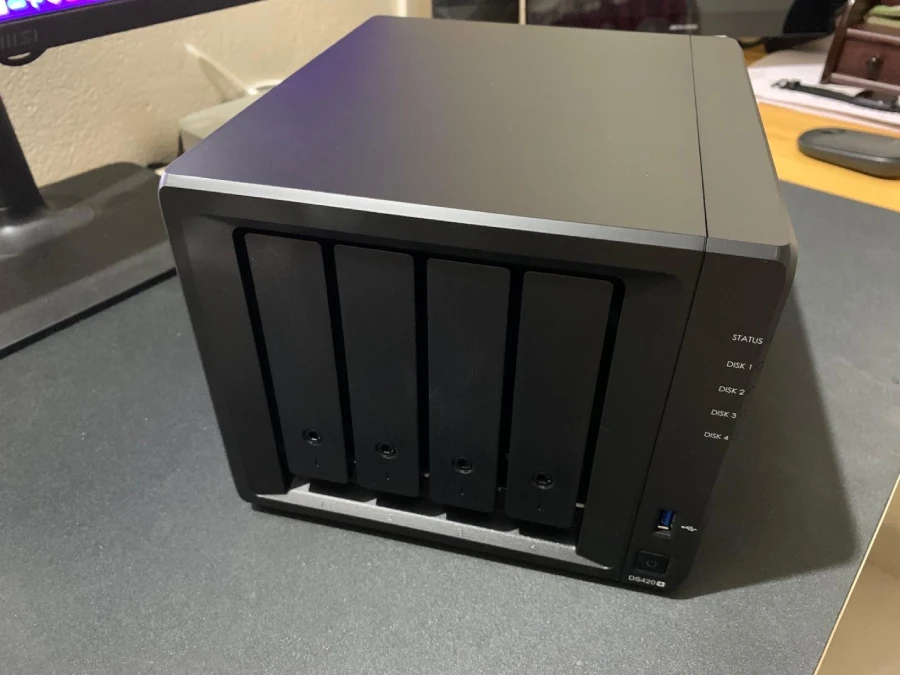 With RAID support, you can rest assured knowing your precious data will be safe if something happens to your NAS device. In addition, the Synology DS420+ supports Windows File Sharing/SMB, AFP, and NFS protocols to work seamlessly with your existing IT environment. With this powerful NAS server at your disposal, all you need now is a sleek enclosure!
Synology NAS DS420+ Hardware
The Synology NAS DS420+ is a high-performance, affordable 4-bay network attached storage solution designed for small and medium-sized businesses. Plus, it's easy to set up and uses, making it an excellent choice for those new to NAS. The DS420+ is powered by an Intel Celeron J4025 and has two built-in Ethernet ports for link aggregation. It also supports up to 64 TB of storage capacity, making it ideal for businesses that need expandable storage.
A DS420+ can take up to 4, 3.5″ or 2.5″ SATA HDD/SSD hard drives in addition to two M.2 2280 NVMe SSDs. Enhances the caching capabilities
Synology NAS DS420+ Software
The Synology NAS DS420+ is an excellent choice for an easy-to-use, all-in-one solution. You get a web-based interface to DiskStation Manager (DSM) that comes with Synology. It's pretty intuitive. It feels like you're logging into your remote desktop computer. But, it's straightforward to use.
Additionally, it comes with a package manager that allows you to install various applications. There are quite a few, all of which are very useful. In some cases, a partner app is also available for Android. Examples are Synology Drive (like google drive) and Synology Photos (similar to google photos).
NAS DS420+ can support Synology Hybrid RAID, Basic, JBOD, RAID 0, RAID 1, RAID 5, RAID 6, RAID 10, RAID Type along with SMB/AFP/NFS/FTP/WebDAV File Protocol. You can log in to your NAS from any device connected to the internet, which supports all the frequently used browsers like Google Chrome, Firefox, Microsoft Edge, and Safari.
Why do you need a NAS?
A Network Attached Storage (NAS) device is excellent for storing and backing data. It can store files, music, photos, and videos. A NAS can also be used as a home media server so that you can access your media from anywhere in the world.
Access data remotely
Some (but some, not all) NAS drives can set remote access. This allows you to access your files from any location around the globe without leaving your computer running all the time or using any complex Remote Access software. For example, with Synology QuickConnect, IT administrators do not need to manually configure devices or complex port forwarding rules for remote employees to access resources on the company's private LAN.
Expand the storage capacity of your computer
A separate NAS device could increase your storage space as quickly as connecting to an external HDD. It could be more expensive but much safer and more secure. You'll get all the benefits that we are discussing here, in addition to the benefit of those extra gigabytes.
Moving between different computers – Your private cloud
We've all been accustomed to using services such as Dropbox and Google Drive to keep files on the same computer. However, the NAS performs the same function by making all your data accessible to all devices you have access to with full data ownership, no matter where you're located.
Watch your videos all over the home
One of the primary motives for buying a NAS drive is the ability to stream music, TV shows, and even photos from home on multiple devices and displays and not have to run one computer constantly to provide the content to various devices.
Collaboration and sharing
We've talked about how using a NAS device instead of a cloud storage service can make life easier for you; however, it could also help others. For example, you can share files directly with your friends or family through your NAS Station instead of the separate cloud storage service.
How to pick a NAS that suits your needs?
The components of your NAS and the future upgrade capabilities will determine how it performs. First, let's discuss the various options.
Storage Capacity for NAS
NAS systems can be distinguished by the number of drive bays they offer, determining how many disks they can store. A larger number of drive bays provides more storage to your users and more flexibility to protect your data from failure.
Selection Drive Capacity to the NAS
To calculate the storage space you'll need, multiply the amount of space on your hard drives and external drives, calculate the storage space your users will need, and include any storage demand you can foresee.
Processor, Controllers, and Memory
Which is better, big onboard processors or controllers? Most small NAS systems employ embedded chips that provide basic functionality. Still, they can slow down when serving many users or deduplicating and encrypting large amounts of data, both of which can be done with many backup solutions. NAS systems stored in racks in IT data centers usually offer multiple storage controllers capable of delivering the fastest performance and failover capability.
Processor: Provides computation power to the system for services and applications.
Controller: Manages storage volume presentation, health, and other aspects.
Memory: Increases file-serving performance and speed
Hybrid Drive and Caching
Many higher-end NAS systems are compatible with standard 5.25″ hard drives by adding smaller, more efficient SSD or M.2 drives. These faster drives can dramatically increase NAS file server performance by caching files in the most recent or most requested files. Combining these drives can increase the NAS's file server performance and large storage capacity.
These capabilities are a simple way to increase performance as you support more users in your office. But, of course, you can buy a system without these slots and then add them later.
A Quick Walkthrough of DS420+ Set-ups
Once you have unboxed the NAS, could you keep it on a flat surface?
Remove the drive tray (s) and insert the hard drive
The LAN should be connected to the NAS at one end
The other end of the LAN cable should be connected to your WiFi router
Connect the provided adapter to the NAS and turn it on
To boot the NAS, press the Power button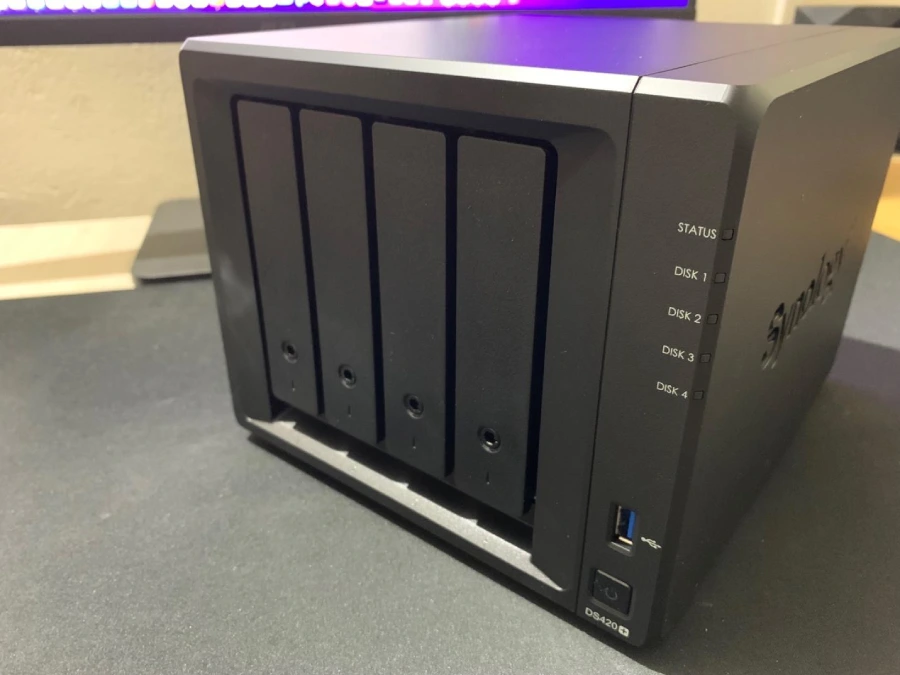 When you are sure your Router and NAS are correctly connected, open any web browser on your PC and navigate to find.synology.com. It will take a few seconds to see your NAS's model number, mac address, IP address, and status.
Note: Make sure you connect your PC or laptop and your DS420+ to the same WiFi router. You can connect your PC (Desktop Computer)or Laptop to the router using a LAN cable or WiFi.
Then, You will see the welcome screen to start the setup process. Click the Set-up button.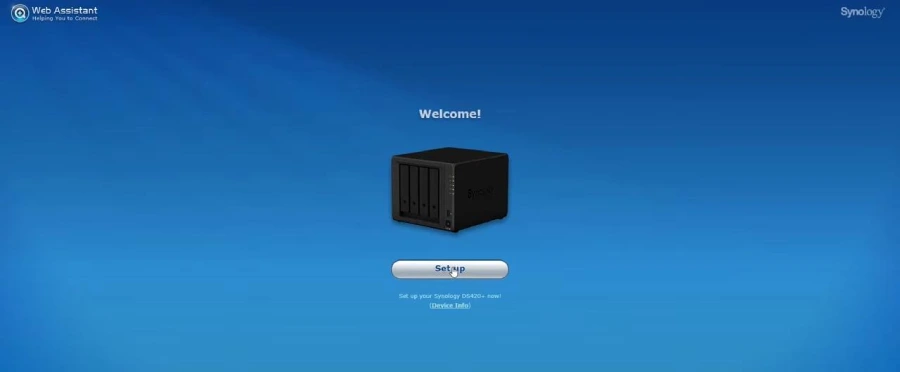 Then, you'll be required the installation of your DSM. Click on Install Now button.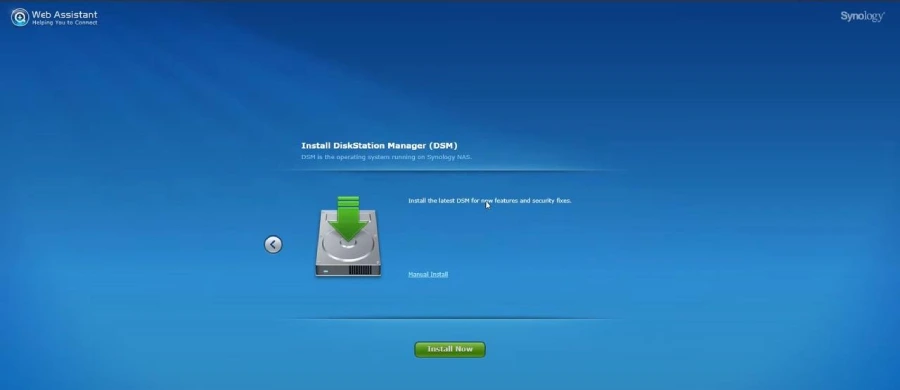 During the installation process, all information on your hard disks (based on the number of disks you have used) is erased, and you need select Yes (or OK ) from the popup menu to continue with the installation.
Then, Synology will format your hard drive and download the most recent DSM OS 7 via its servers. This is an automated process and takes only a few minutes based on the bandwidth of your connection. The NAS is automatically restarted after the download has been completed.
Note: If you find it difficult to set up your Synology DS420+, you can check our dedicated DS 420+ setup tutorial.
Once completed, you can use your NAS and proceed with installing some apps which might make your NAS experience even better.
Some New Features Of DSM 7
There are many new features on DSM 7; The dashboard looks as simple as a desktop, and you can find all the quick app links from the desktop. You can add a shortcut to the desktop for quick access. Some of them are mentioned below:
New User Interface
The most obvious change in DSM 7 is the new user interface. However, DSM 7 also improved the user experience and the responsiveness of the user interface.
The brand-new Storage Manager
DSM 7 comes with a new storage Manager application.
General Information
You can see all the general information of your Synology NAS on a neat and easily understandable screen, which includes the RAM, Processor, Serial number, etc.
Active Insight
Active Insight is a web-based live monitoring tool that you can use to monitor your Synology NAS devices. If you've got an office or home with multiple Synology NAS running, you can utilize Active Insight to monitor them all from one location and anywhere in the globe.
Improved Resource Monitor
Specific visual and usability improvements are added to The Resource Monitor app in DSM 7.
Security Enhancements
It can block from the USB and the Synology NAS console port. In addition, it has improved QuickConnect connections for greater security.
Control Panel For Quick Access
The all-new control panel for quick access to all the important options minimally.
Conclusion
The information mentioned above is minimal when considering a NAS and its functionality. This introduction and quick setup are for quick reference, and the possibilities of Synology NAS DS 420+ are extensive. You can set up your home movie servicer with Plex, Google Photos alternatives with Synology Photos, and even save money if you are planning to buy TP-Link Omada Hardware Controller, too; yes, you can run the Omada Software controller using the DS 420+.