This dedicated page provides complete details on how to download the Cinema HD app on smartphones and tablets running with Android. Unline other OTT applications. Cinema HD offers free movies and telecasted tv content at your fingertips.
It has been a well-known streaming source for all the people who love to watch or download premium video content for free. As it also provides the Ad-free feature through its VIP membership. Moreover, its pro access is the cheapest.
However, Cinema HD is a mobile application, and you still sideload it on different platform devices with tips and tricks. Directly installable on Android-based devices, it may be a TV or play station.
How to Download and Install Cinema HD APK on Android device
The fact is that the Cinema HD application can't be installed via the Play store. So, you must download its apk file from the official website and install it as an unknown profile.
You can download and install the Cinema HD app on your Android gadgets using the below instructions.
1. On your mobile, download the Cinemahd apk file using the web browser.
2. Scroll down on that page to find the latest app version and click to download.
3. The file starts downloading to your device. Once it got done, you'll get a notification in the top sliding bar.
4. Pull down the bar and tap on it.
5. Immediately, the installer window opens, and tap on the Install button.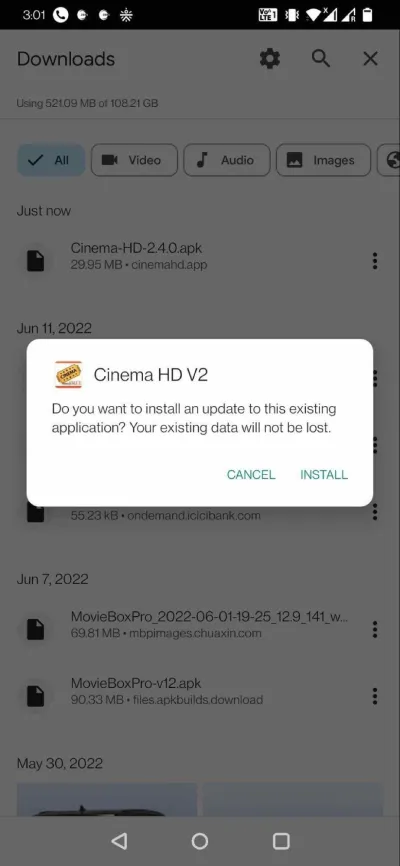 6. If you're installing third-party apps for the first time, it will ask you to turn on the "install unknown apps" for Google chrome. (Optional step)
7. enable this feature.
8. Finally, come back to the cinema HD installation window and tap on done.
9. You also need to allow the "unknown source" feature for Cinema HD.
10. Go to the setting page and select the Apps option.
11. Find the Cinema HD app.
12. Enable the "Install Unkown Apps" option in the advanced options.
After successfully installing the Cinema HD app on your device, you're good to launch the app for free entertainment.
Please remember that all these steps are taken from the latest version of Android. So you might have different options if your phone is basic Android or has an older version. But the procedure is the same.
Feature of Cinema HD App
Loveable user interface with useful controls: Cinema HD has a simple layout, easy settings, quick-to-find options, and is reachable to anyone.
A Loyal base of movies and tv shows: As I said earlier, Cinema HD is not only a free source, but its content is 100% premium with high quality. Watching a movie or series from different languages is possible with it.
One-Click to get subtitles: Foreign movies without subtitles are not a good idea. So, Cinema HD can fetch the subtitles or CC for languages like English, Spanish, hind, french, Korean, etc.
Multiple video player options: The major source to play an online stream is a media player. Having custom media players makes people choose what they're comfortable with. You can choose from the top video players from the current era, such as MX Player, VLC Player, YesPlayer, and built-in Cinema Player.
Add third-party content sources: With Cinema HD, you can not only get links from default providers but also sign in to the Real Debrid, Premiumize, Debris, and Trakt.
Frequently Asked Questions (FAQs)
Can I download my favorite movies from Cinema HD App?
Of course, Yes, that's why the Cinema HD exists. It allows you to download as many videos as possible if you've plenty of space on your device. But, you can't share the files as it downloads only inside the app.
What are the minimum requirements for Cinema HD?
To use this application, your device must be connected to a decent network like Wifi or cellular data. The Android version should be greater than 5.0. More importantly, 200MB of free space is required to install the app.
Please check that your android phone allows you to install other than Play Store apps from outside.
Does this app require any subscription?
Not at all. If you want an ad-free version, then you have got a membership. But, not required because ad blockers and modded versions help for that.
There is no need to provide your details, not even your name, email id, and phone number.
How to install it on my TV?
First, Cinema HD works on Android TVs, Fire TVs, and Nvidia Shield. Of course, it won't run directly on smart TVs without streaming devices. But, Cinema HD's casting features can stream content from mobile to your bigger screens just like that.
Conclusion
Cinema HD truly deserves a place in your apps list to surf through free HD movies and popular series. However, if you have subscription-based apps on your device, you must also try this app as it is entirely free to use.
Most importantly, it would be best if you understood that Cinema HD is not on the legal side and is not an official streaming service. We always recommend using legal and official streaming services to watch movies, series, and Live Tv. However, you can do it without any issue if you want free services.
Also, download the correct APK file and do a virus scan to ensure the APK files are safe and free from malicious codes or programs.