The cash app was formerly known as the widely famous Square Cash, which initially launched in the year 2013 in October. Since then, the company has grown massively in its user base, and the app is available in French and English.
What is the Cash App?
Cash App is a mobile payment app available on android and Ios. The function of the app is to send and receive payment digitally. Digital payments are rising worldwide as the technology penetration increases around the globe; Cash App has created an ecosystem of digital payments known as $cashtag.
As per Verge, in 2018, Cash App became the most popular digital money transfer platform. But Cash App is not just limited to sending and receiving digital payments. In 2018, when cryptocurrency was at its peak, Cash App launched its bitcoin trade, and in the year of 2019, it launched itself in the US Stock market.
The services of Cash App are banking, peer-to-peer money transfer, Cryptocurrency & Investing. The app is trusted by millions of users worldwide, and as of now, it stands on a massive market capitalization of $117.4 billion.
Let's take a look at its services in detail:
Banking
Cash App allows users to send their money to their bank account in the US and UK (not internally) with ease of use and a trusted support system developed over the years. It is a leading platform with customizable debit cards to withdraw cash easily; many competing companies do not offer this feature. For all fashion enthusiasts, you can customize your card's design and color.
Peer-To-Peer Transfer
Cash App makes it easy for users to transfer money digitally; you only need their phone number, email, or $cashtag. To explain to the readers, $cashtag is a unique username assigned to a user upon registration, similar to a unique UPI Id generated. Moreover, you can transfer money to a 3rd party account in just a few steps with a low wait time of 3-5 business days and an add-on option of instant withdrawal.
Cryptocurrency
Cryptocurrency is rising, and Cash App is the very early release of the same ecosystem. You can easily buy, sell and send cryptocurrency as a peer-to-peer transfer through the app, which makes its functionality very easy. However, currently, the app provides only bitcoin support due to the trust factor the currency has built over the years, and trading is only limited to minors.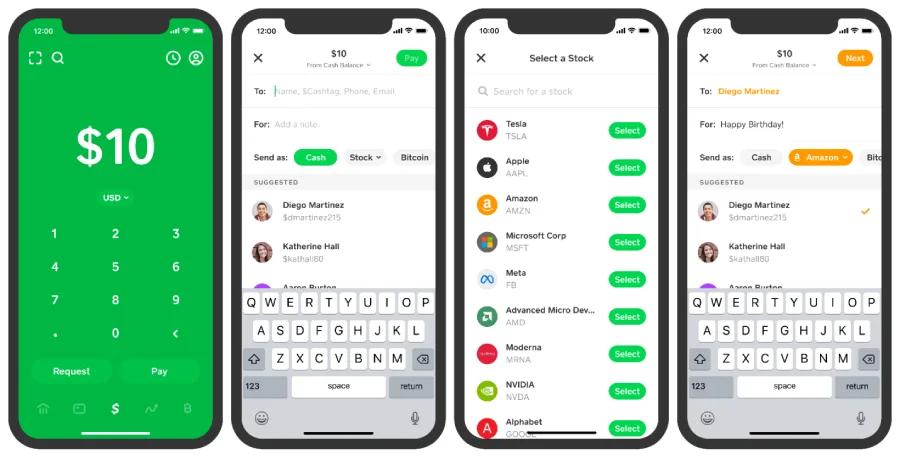 In which area is Cash App available?
Cash App is only available in the US and UK and is open for international transactions limited to these countries. While this is a growing company & sector, the company has now limited its operation to the above countries. Still, the company soon plans to expand in further regions like Europe.
How to Secure Cash App Account?
First, it is crucial to talk about the security of the Cash App account.
Cash App uses modern fraud detection and encryption tools to safeguard your data and funds.
The fraud detection system and security guidelines used by Cash App are the same ones that keep track of the daily millions of Square Point of Sale transactions.
You must enter a PIN or Touch ID to make payments through your Cash App. To secure your Cash App account, follow the steps mentioned below:
Step 1: From the Cash App home screen, select the profile icon.
Step 2: Go to the Privacy & Security option
Step 3: Switch on the security lock.
Step 4: Type in your Touch ID or PIN.
How to Reset Cash App Pin
If you have forgotten your PIN, the first thing to do is not panic. There is always a mechanism to get back. Otherwise, you can also contact the support system.
A crucial thing to note here is that your Cash Card and Cash App PIN are the same.
Setting a new PIN in the Cash App account:
Step 1: Go to the Cash App home screen and select the profile icon.
Step 2: From there, press the Privacy & Security option.
Step 3: Click on the Cash PIN Change:
Step 4: Verify Your New PIN
In case you face difficulties, you can always contact customer support.
How to Delete Cash App History
Cash App allows a user to delete history in its entirety for the user through the app. However, the data is still stored in the servers of Cash App.
The only way to do this is to delete the account user and make a new account user. This will ensure that you get a new transaction history from scratch. Unfortunately, there is no in-built feature to erase or delete cash app history inside the user account.
How to Close Cash App Account
Before closing your Cash App account, you need to take preliminary things to close your Cash App account safely. First, deposit all your funds into your bank account before you cancel your Cash App account. We will guide you as to how to do that:
Follow the steps given below to transfer all the money to your bank account:
You need to go to the home page and look for close account button; it can be easily located at the bottom of the page
After that, all you need to do is click the cash-out button, and all your money will be transferred to your account.
This ensures that you are safe to close your account and no fund in your account is stuck. However, ensure you give it enough time (3-4 days) to transfer your fund to your account. Do not close your account before that.
Cash App has made the digital era very easy for you; you can transfer funds to your account with just 2 clicks.
Steps on how to delete your Cash App account after transferring your funds using the following steps:
Step 1: Look for the profile action from the home or any page. Select the "profile" icon, and you will be taken to the profile page.
Step 2: The next step is to look for the 'support' option, which will be available on the profile page, after which you will be transferred to a list of options wherein you have to select 'something else'.
Step 3: Choose the account settings option wherein you will spot close my Cash App account,
Step 4: By selecting "close my Cash App account" , you can remove your Cash App account. (This is a permanent action, make sure you are 100percent sure before you go through this)
Step 5: When you wish to proceed with the same, a new page explaining in detail what it means to close your account will open. Make sure you go through that. Then, click the "confirm closing account" button at the bottom when you're ready, and your account will be closed forever.
Your account will be deactivated, and your $cashtag will disappear.
Conclusion
Cash App is one of the best platforms available in the US and the UK to transfer money, stock trading, and exchange bitcoins. The trust factor is ranked high, and the functionality is out of the world. In addition, the customer support of this app is one of the best in the market, and it will soon expand its operations in Europe.