If you are deep into the Apple ecosystem, you might know how smooth the integration of multiple apple products is. The continuation on multiple apple devices is convenient for workflow and thus increases productivity.
The iCloud integration on apple devices is done in an optimized format to work seamlessly on all Apple products. Some simple functions like cross-device clipboards are such an example. If you copy an item on your Apple devices, all the other devices connected to the same apple id can get the copied content intently.
For example, if you copy a text on your iPhone, you can instantly paste it on a Mac or iPad. Similarly, almost all the functionalities on the Apple devices are integrated in a polished way.
iMessage Not Syncing on iPad
In this artcile, we will check the iMessage Syncing issue on the iPad. As a part of the cross-device syncing, all the messages that you see on the iMessage app on your iPhone will automatically be available on the iMessage on your Mac and iPad. However, the iMessage syncing might not work on the iPad in some cases, especially while configuring a new iPad.
So, let's check the steps to enable the iMessage sync on the iPad.
First, make sure that you use the same apple id on your iPhone and the iPad or any Apple device you are looking for.
Step 1: Open the Settings app on your iPhone and click on the Profile icon listed at the top.
Step 2: Now, click on the iCloud option from the Apple ID page.
Step 3: Scroll down and check whether the Message option is selected. If not, enable the Messages option. So that your iMessages will get synced to your iCloud account.
Step 4: Now, go back to the main page of the setting option on your iPhone.
Step 5: Scroll down and tap on the Messages option.
Step 6: Now tap on the Text Message Forwarding option listed on the page.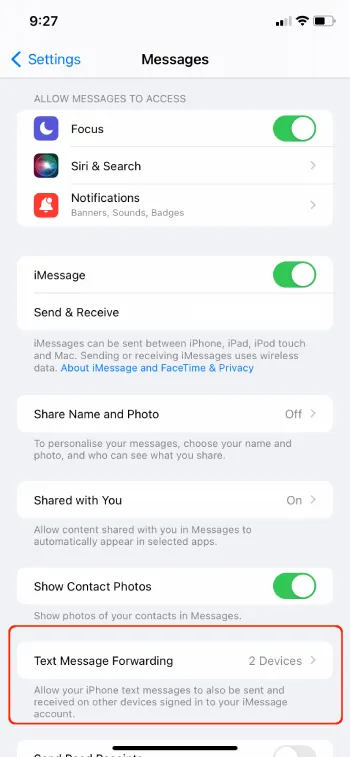 Step 7: On the next window, you will see all the other apple devices you are using.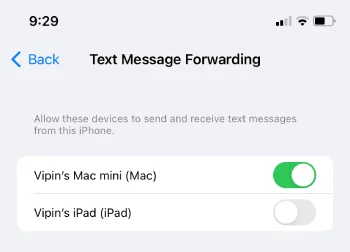 Step 8: The text message forward for new devices might be disabled by default. Enable the Text Message Forwarding for your desired device if you wish to see the message on all your Apple devices. Enable the option for all the devices listed there.
Once done, wait for a few minutes so that your iMessages will get synced to your new iPad or any other device. Depending on the total messages, the initial syncing might take a few minutes.
Once completed, all the new messages will instantly be available on all other devices. You will get a notification on all other devices once a new SMS or iMessage receives.