Google's latest Android version, the Android P comes with a lot of features. One of the main such features is the Gesture-based navigation system. Google introduced the new Gesture navigation system in Android P. Whereas the previous versions have the default navigation button system (including Home, Back and Recent Apps Buttons).
The new navigation system gives the user a simple and minimal visual feel to the screen and also it will provide all the navigation features within a single option. Even Though this new navigation gives simplicity effectively, some users might feel it tricky to use it. Since they are used to the traditional navigation button. From the beginning till the Android Oreo, Google was using the normal navigation button.
Read: Mi Earphones Basic (Mi Piston Basic) Review – Best Earphones Under Rs. 500
So, some users might take time to adapt to gesture-based navigation. Keeping this in mind, Google added the new feature in the Android P Operating System. If you need the previous traditional navigation button, then you can enable it from the settings itself.
Here we will check, how we can enable and disable the Gesture-based navigation system and also how to turn on and turn off the traditional navigation system on your Android P device.
If you are buying a new handset with Android Pie operating system, then by default Gesture-based navigation system will be enabled. On the other hand, if you are upgrading your device from Android Oreo to Android Pie, then by default normal navigation icon will be available. In both cases, you can switch between two options, depending on your choice.
Follow the below steps to enable or disable the Gesture navigation or Default navigation
Step 1: Go to setting section in your Android Device
Read: Dual 4G Support on Xiaomi Mi A2 Lite Spotted After Android P Update
Step 2: Scroll down to the bottom and click in 'System'.
Step 3: In the next window, you will get some options. From that, click on 'Gestures'.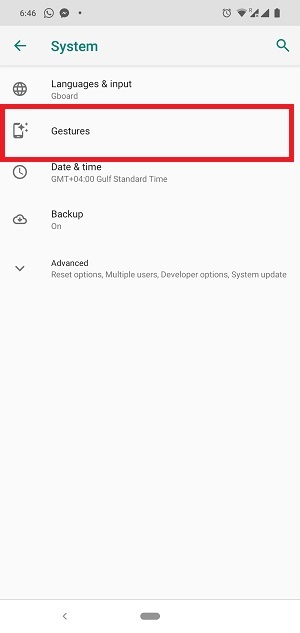 Step 4: From the available options, click on 'Swipe up on Home button'.
Step 5: You will get option there to turn on or off the Gesture option.
If you need the Gesture based navigation button on your mobile, then turn on the option. if you need the traditional 3 navigation buttons including Home button, Back button and the Recent button, then turn off the option.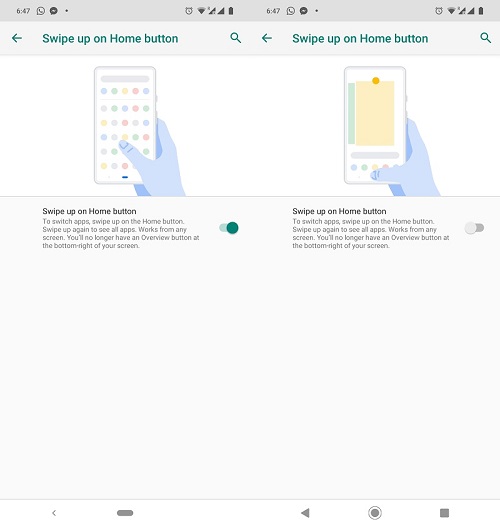 Switching the option ON and OFF will turn the navigation button latest and old one, you can see the change instantly in the navigation area.