Formatting your Android smartphone will be a big headache for most of us. The main reason will be our Contacts. Google contact sync is available for all and which will be an automated method, most of the android users are unaware of this and which was disabled for them. Because of all these problem, people finds it difficult to format their Smartphone when it is required.
In this case we can use a Cloud Service using an application named CM Backup. It is a free cloud backup & restore tool developed by Clean Master's sister team: Cheetah Mobile. They are providing us a free 5GB of your own personal cloud storage. Just download the application from Google Play Store and create a free account. In the dashboard, you can see the all the items, you can take the backup, such as Contacts, SMS, Call Logs, Calender etc.
Update: CM Backup is discontinued, so i recommend to use Super Back up and Restore for all your backup and Restore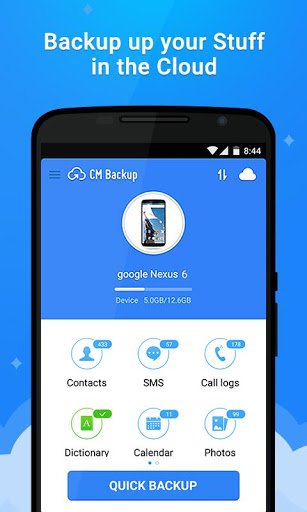 Click on the required item and take the backup of all of them quickly. After formatting your phone, just reinstall the application and logon to the CM Backup application and restore all the previously taken backups.
Check Super Backup & Restore (CM Backup Discontinued)
Main Functions
Contacts backup & restore (Avatars, birthdays etc.)
Messages backup & restore (SMS, MMS, text messages and Hangouts)
Call logs backup & restore (Phone only)
Photos backup & restore
Web Browser Bookmarks backup & restore
Calendars backup & restore
Alarms backup & restore
Dictionary backup & restore (Input methods)