Handling multiple email email accounts in with different email client will be a difficult task. It is better to keep all the emails whether it is your personal email or your work email at one place. Most of the android users are looking for application to manage all the emails at one place.
For Android, there are so many free applications available, so for android users, getting a good email client will not be a very difficult task. Now we are going to see one of the best Email Client for Android, 'Blue Mail'.
As like the other email clients, blue mail also can handle with multiple email account, whether gmail, yahoo, or your domain email, google apps email, anything. But this application comes with an attractive design with a stylish blue and white colour combinations. The application is very fast, as there is no delay in opening an email.
One other feature of this application is that you can switch to different email account to see all the emails, as well as there is a unified tab in it in which you can see all the emails together there. Each email account can be distinguished with a unique colour also, to identify which email belongs to which account and all.
When composing a new email also, you can select from which account, you wish to send that email from also. So you do not need to switch to any account to compose a new email.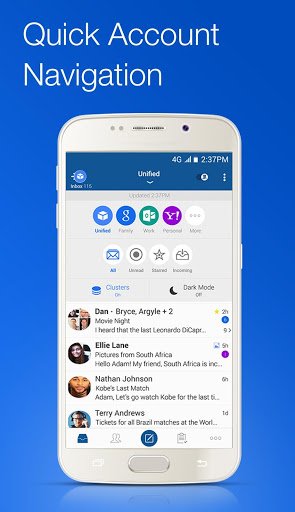 Features at a Glance
Multiple providers – Gmail, Yahoo Mail, Outlook and Office 365
Support for IMAP, Exchange & POP3 auto configuration
Sync multiple mailboxes from all your providers in a Unified Interface
True push email for the widest range of mail services
Material Design & Lollipop
SMARTEST MOBILE NOTIFICATIONS – Quiet Hours, Custom Sounds, Vibrate, LED Light, Snooze Alerts and other preferences per each of your accounts
GROUP MAIL – Define & Share Groups to quickly send and receive emails
BEAUTIFUL DARK THEME – with automatic switch between day & night modes
RICH TEXT SIGNATURE – Easily configure text styles and add your logo
ANDROID WEAR – Receive and act on notification right from your watch
MOBILE PRINTING – Integrated with any printer supported by Android such as select plugins
DYNAMIC SMART CONVERSATIONS – Makes email convenient and easy
CONFIGURABLE MENUS – Customize your swipe menu and email view actions with what matter to you the most
APP ICON UNREAD BADGE – See if you have a new email in your inbox directly from your home screen
SCROLLABLE AND UNREAD WIDGETS – Access your emails inbox at a glance